Medina Historical Society has worked diligently for community the past 50 years
By Catherine Cooper, Orleans County Historian
Illuminating Orleans – Vol. 1, No. 30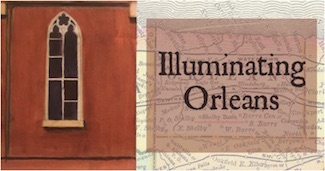 MEDINA – On November 30, 1971, a group of twenty people attended a meeting at Oak Orchard School in Medina and officially organized the foundation of the Medina Historical Society.
Ciel White, Village of Medina Historian, was named President, with Miss Margaret Shannon as President-elect, Clifford Wise as Vice-President, Miss Marian Perry as Secretary and Frank Berger as Treasurer. A constitution was adopted.
The purpose of the newly formed society was to: "discover, procure and preserve whatever may relate to the history of Western New York and particularly the Village of Medina and Townships of Ridgeway and Shelby, to gather statistics of commerce, manufacture and business, publish reports, essays and other historical material, maintain lectures and studies, engage speakers, raise funds, buy or lease property or construct buildings for future historical society uses, and other related activities."
The Society can justly be proud of its steady accomplishments over the past 50 years. Following several years of fundraising and searching for a suitable location, the Society achieved its long-term goal of securing a suitable location for a museum in 1979, when members reached an agreement with the Town of Ridgeway for the use of 406 West Ave., Medina. This sturdy red brick building built in 1841 by LeVan Merritt had been used as offices by the Town of Ridgeway since 1960.
Board members and volunteers worked to renovate the building. Members of the community generously donated cherished items. The Monitor Clock in the entryway belonged to Ciel White, as did two glass lamps. The Victorian furniture in the parlor was given by Louise Brownell. The Estey parlor organ has Shelby connections. The G.E. refrigerator and early stove were donated by Ward Bramer. Agricultural tools, a wooden sewer pipe, a WWII POW bed, military uniforms, the list goes on. The most recent donation is a voting booth from the Medina Central School District. Indeed, each item in the collection has a local connection and resonance.
In addition to establishing a fine museum and hosting visits and group tours, the Society also began a quarterly publication, The Bugle, which features articles on topics of local interest. Annual calendars showcasing some of the collection's unique photographs have helped raise funds.
The Society has presented a varied slate of programs each spring and fall. Recent offerings include the Orphan Trains and the History of Polio. Character reenactors have brought Mary Jemison, Surly Sal, President Franklin D. Roosevelt, and Elizabeth Cady Stanton to life. The January "Show and Tell" is an annual favorite.
Members have organized elaborate Old Home Days with artisans demonstrating traditional skills such as weaving and chair caning. The "stone soup" cooked over an open fire on that day was always popular. Fashion shows, wedding dress galas, parades, floats, afternoon teas, Victorian mourning customs, Santa Claus – are some of the imaginative events presented.
This wealth of activity was all organized, promoted and provided by volunteers. The yearly membership in 1971 was $2. Fifty years later, it is a modest $15. Residents of the Village of Medina, the Townships of Ridgeway and Shelby have been well served for 50 years by the dedication of the Medina Historical Society and its stewardship of their memories.