Medina has strong showing at Gorham Pageant of Bands
Press Release, Medina Marching Band
Marcus Whitman Central School held its 57th Annual Gorham Pageant of Bands on Friday and Saturday. The pageant represents an opportunity for students in the various band programs to come together and perform.  This pageant is particularly special to the Medina Marching Band because it was started by Robert Steele, our band director's father.
The Medina High School jazz ensembles performs in the jazz competition. Medina scored a 97, the most of five schools. In the Junior High (medium size school) Medina scored 87. In High School (small) Bloomfield scored 88. This band is under the direction of Scott Hoffman, a Medina graduate. In the large high school category Webster-Thomas scored a 92 while East Ridge scored a 95. The East Ridge band program is under the direction of Jeff Hoffman, also a Medina graduate. East Ridge also received recognition for Best Soloist (tenor sax), Best Brass & Woodwind sections. The Webster-Thomas jazz ensemble received recognition for Best Rhythm section.
In Concert competition there were three groups performing. Medina's Middle School, under the direction of Rebecca Botsford, scored 165 while Medina's High School under the direction of Jim Steele scored 197.5. The Roxboro Middle School in the large school category scored 175.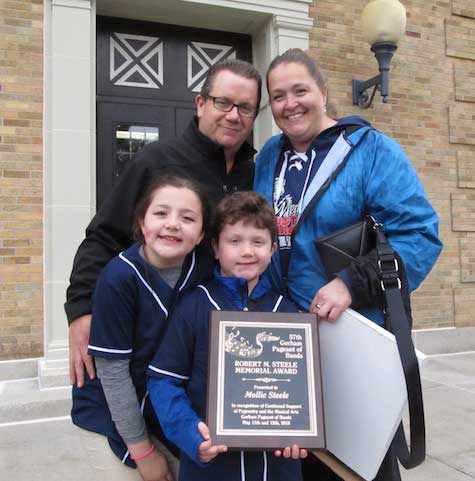 The Robert Steele Award was started in 1994 and named after Jim Steele's father who was the band director in Gorham for 37 years. It's given to band directors, administrators, boosters who promote music education and are a strong role model & supporter of their school's music program. This year's recipient was Mollie Steele.  Accepting the award in her name was her son, Jimmy.
The pageant concludes this season's competitions. However, the community can see the band perform in the Memorial Day parade. The music for the fall season will be distributed before the Band Banquet on June 9 and Band Camp is scheduled for August 6-10.