Medina gives overwhelming support for capital project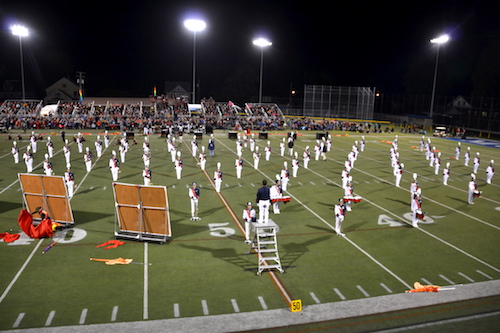 MEDINA – School district voters gave strong support for two propositions today that total $34 million in school improvements.
Proposition 1 passed, 372-43, and includes $32,588,000 for a slew of improvements at all three school buildings, the bus garage, and Vet's Park. There would also be a new access road between Oak Orchard Elementary School and Clifford Wise Middle School.
Proposition 2 passed, 367-45, and includes $1,425,000 to allow for an expansion at Vet's Park by acquiring 1.6 acres of land south of the park, adding permanent bleachers, more lighting, a new press box in the bleacher system, new fencing and additional synthetic turf in the current press box location.
The project won't increase local taxes because Medina already has $2,323,182 set aside in reserve funds for its share of the $34 million project, Tom Cox, interim school district superintendent, said at a public hearing last week.
"We feel we have been able to address the compelling needs," Cox said at the public hearing. "It's pretty much nuts and bolts but that doesn't mean there isn't some pretty nice stuff that will happen."
Some work at Vet's Park may be able to be completed this spring through fall, while the school building work is eyed for 2018, depending on State Education Department approvals.
Here is how they break down of Proposition 1:
Health, Safety and Code Compliance – $7,691,000
The district will replace aging bus lifts, upgrade the fire alarm systems, door hardware and toilets.
The roof, ceiling panels and wall panels will all be upgraded at the swimming pool.
Windows and a generator will be replaced at Oak Orchard Elementary School. Those windows are more than a half century old.
The project expenses are broken out to $3,637,300 at the elementary school, $2,562,400 at the middle school, $892,800 at high school, $561,500 at bus garage and $7,000 at concession stand.
All three school buildings, as well as the bus garage, will have HVAC totally overhauled with $4,728,200 planned for the high school, $4,115,200 at the middle school, $4,103,000 at the elementary school and $649,900 for the bus garage.
The district also will add air-conditioning for the high, middle and elementary schools at $285,600 per building or $856,800 total.
The HVAC and air conditioning projects will be funded 98 percent by the state, school officials said.
The boilers are all about 25 years old and are nearing the end of the their useful lives. If the district tried to fix a boiler or install air-conditioning outside of a capital project, Medina would have to pay 100 percent of the costs.
Information Technology – $380,000
The district wants to move the network operations center from the basement of the district office to Oak Orchard Elementary School.
The project will also add fiber optics to handle future needs as Medina moves to more electronic devices and on-line testing.
Academics/Programs at High School – $2,408,900
The project will include upgraded science rooms, renovations in library (by knocking out a wall and expanding to a next-door computer lab), replacing windows and renovating toilet facilities.
A pole barn will also be built for storage for marching band equipment (so no longer have to rent at Olde Pickle Factory).
The gym bleachers will be renovated, and JV softball and baseball fields will be upgraded. There also will be renovations in Ag Classroom and greenhouse.
The high school opened about 25 years ago and needs some work, especially with HVAC and to meet new state codes and technology needs, Kruzynski said.
Academics/Programs at Middle School – $1,028,000
The project includes renovations to the auditorium with stage floor, carpet, houselighting, some lighting and sound, and also some toilet renovations.
Academics/Programs at Elementary School – $2,085,600
The project includes auditorium renovations – carpet, seating, general, and improvements to toilets, new drinking fountains, classroom storage units with sinks, upgrades to the playground, and provisions to abate hazardous materials if any are found inside walls during the construction project.
Vet's Park Site Work – $2,200,000 (part of $32.6 million Proposition 1)
Remove and replace turf that is 15 years old. The district also wants to improve drainage, complete sub-base reconstruction, replace fencing as needed, install a new scoreboard and sound system, add a new back stop and movable mounds for baseball and softball, reconfigure and expand the bleacher system and add new walkways.
Site work for track – $896,000
The track has already been resurfaced six times and the state won't pay for another resurfacing but will aid a reconstruction of the site. The rebuilt track will have six lanes, event area, a scoreboard, and fencing and paving.
Site work for road from elementary to middle school – $3,012,700
A campus road will be constructed between Oak Orchard Elementary and Wise Middle School for bus traffic. The road will be heavy duty for buses.
The project includes demolition, removal and grading, as well as new sidewalks, stormwater management, parking and road lighting, removal of playground and construction of a new one for younger elementary-age students, and restored landscaping.
A new parking lot with room for 70-75 vehicles also will be added.