Medina gives graduates a spiritual sendoff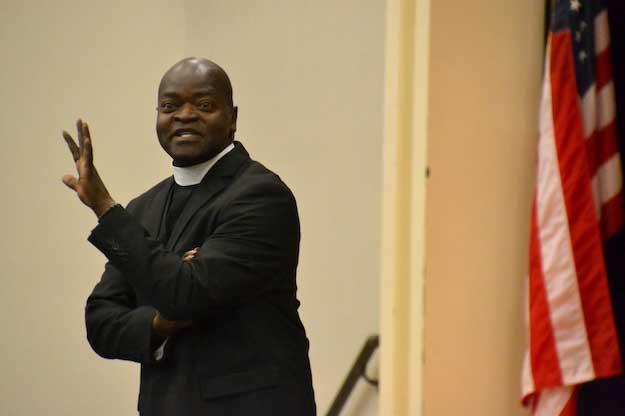 Photos by Tom Rivers
MEDINA – Dan Doctor, director of community outreach for Medina Central School, was keynote speaker at a "moving forward" service Sunday evening for Medina's Class of 2018. The service was like a baccalaureate with a religious message and blessing.
Doctor wore his collar as an ordained elder for Ephesus Ministries in Buffalo. He said God has been a big part of his life since he was in seventh grade. He praised his mother, now 92, for being so devoted in her prayer life, lifting up her nine children.
Doctor urged students to have a prayer life, even if it is a whisper.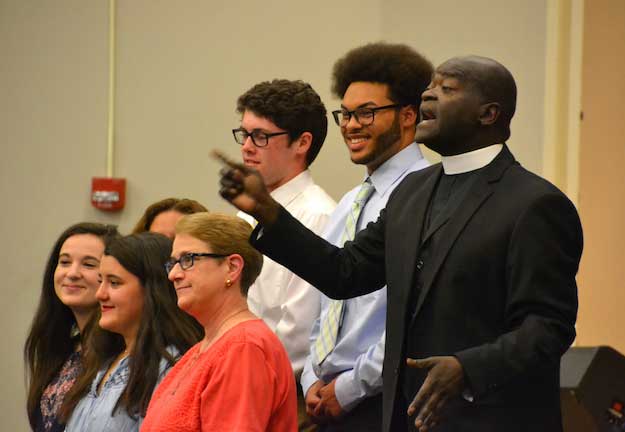 Doctor needed some students and teacher Lisa Roeseler to help illustrate his message about the life of Moses, who led the Israelites against an unjust Egyptian Pharaoh. Moses demanded the Israelites be released from slavery, according to the Book of Exodus. After God sent 10 plagues, Moses led the people across the Red Sea to Mount Sinai, where he received the Ten Commandments.
Doctor said Moses kept moving forward, pushing for a better land, despite the natural inclination to want to stay put with what's familiar. Moses pushed the people to keep moving forward, even when they were grumbling and unsure if he was taking them in the right direction.
Doctor said God will use challenges to get people's attention.
"Sometimes God has to give us a plague for us to hear Him," Doctor said.
Sunday's service was the first baccalaureate at Medina in at least two decades. The Medina Area Association of Churches reached out to the high school about bringing the service back. A group of students decided to take the lead in working with the MAAC on the "moving forward" celebration.
About a quarter of the class's 122 members attended the service. Shelby Green, the Student Association president, said that is a good start to what she hopes will become an annual tradition for the senior class.
"It's another event to honor the seniors," she said.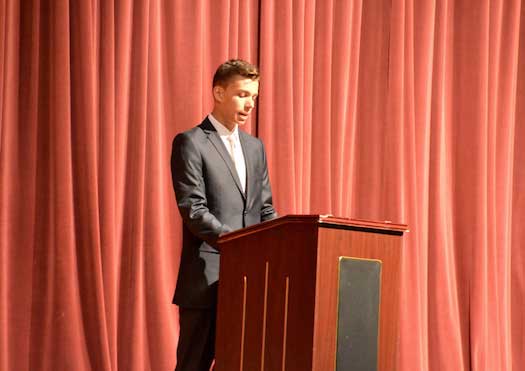 Three students shared reflections during the service. Jack Hill, pictured, spoke about "Upward." He encouraged his classmates to develop habits that will help them make good decisions and be prepared for the future. Madison Kenward spoke about "Forward" and Jacob Bensley shared about "Upward." Bensley told his classmates that God loves them despite their flaws and mistakes.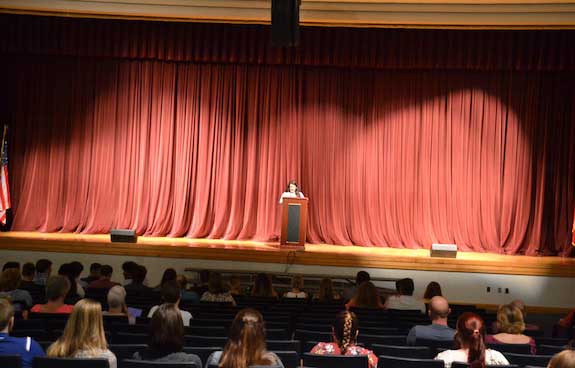 Alissa Blount, the incoming Student Association president, thanked the senior class for their dedication to the school. She said the current juniors have a tough challenge in following the seniors.
Local clergy leaders also shared reflections and prayed a blessing on the Class of 2018 as they soon finish their high school careers. Michael Stephenson is pastor of the First Baptist Church in Medina, while Vince Iorio leads the Calvary Tabernacle Church, Dan Thurber is pastor of Oak Orchard Assembly of God, Russ Peters leads the Alabama Full Gospel Fellowship, and Tony Hipes is pastor of the Medina United Methodist Church.
Iorio thanked the students and school for allowing the "moving forward" service. He said the student speakers are an "amazing group."
Peters added to Doctor's message about Moses. Peters said Moses resisted unjust laws and an unjust pharaoh.
"I wonder if there are any young Moseses here?" Peters said. "Are there people here who will stand up for people who don't have voices here?"
Peters shared a famous quote attributed to Edmund Burke: "The only thing necessary for the triumph of evil is that good men do nothing."
Stephenson, the First Baptist pastor, told the students that the churches wanted to give them a "spiritually-focused sendoff."
He also wanted them to know that God wants to be part of their journey in life.
"It sounds cliché but God loves each and every one of you," Stephenson said. "He loves each of you and all of you."