Medina girl, 7, collects three carloads of food for homeless in Buffalo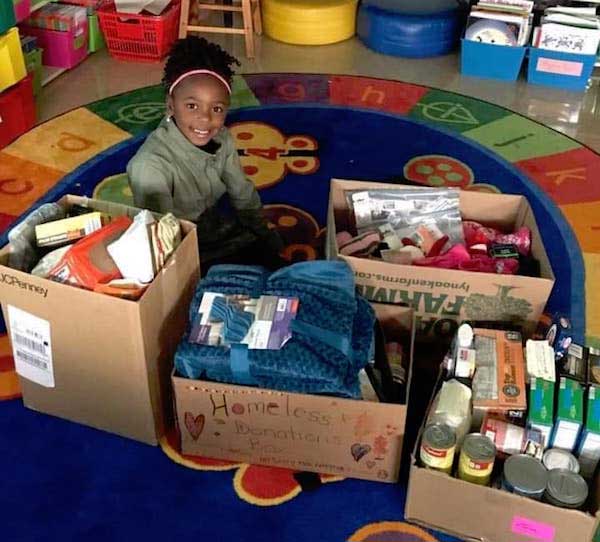 Photos courtesy of Evette Phillips
BUFFALO – Caliyah Boston, 7, of Medina is shown with some of the donated food she brought to Buffalo on Sunday to give to We R Buffalo Strong, an organization led by Medina native Evette Phillips.
For the past five years Phillips has been taking food to homeless people in Buffalo, often bringing grills and cooking meals with them.
Caliyah's family heard about the organization through social media and wanted to collect food to be be donated to We R Buffalo Strong. Caliyah's second grade classmates and others at Oak Orchard Elementary School helped with the effort, which resulted in three carloads of food and clothing.
"Caliyah's classroom also made cards for the homeless which brought some to tears, including me," Phillips said.
Phillips last year was named the "Humble Humanitarian of the Year" by Compass House of WNY, which runs a shelter for homeless children ages 12 to 17.
She typically meets the homeless on the street behind the Buffalo public library.
"I'm just a single mom of four who wants to make a difference in my town," Phillips said during a phone interview today.
She was impressed by Caliyah's good heart and motivation to help the homeless. Phillips didn't realize the Medina connection until Caliyah showed up Sunday wearing a Medina Mustang sweatshirt.
"For someone to be all the way from Medina to come to Buffalo that really resonated with me," Phillips said. "I'm from Medina. It's so small and everybody knows everyone."
Phillips said she doesn't just hand out food. Sometimes there are tail-gate parties, cookouts and TV's hooked up to watch the Bills games together.
"It started off as just trying to make a difference in the community and it really took off," she said. "It's just giving the people a sense of normalcy and love without judgement."