Medina gateway sign is restored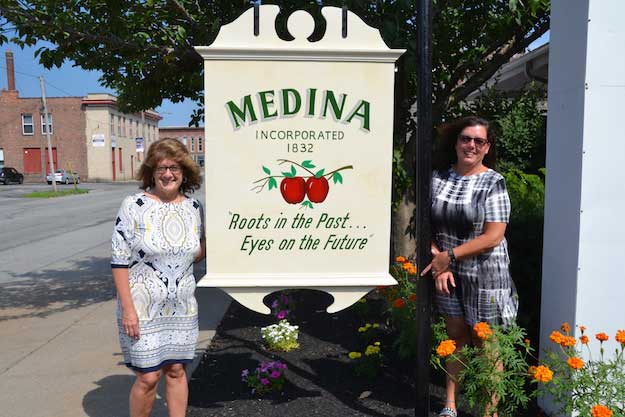 Photo by Tom Rivers
MEDINA – Medina Village Clerk Debbie Padoleski, left, and Deputy Clerk Jada Burgess are pictured with a Medina community sign that was recently installed by the Village Clerk's Office at 119 Park Ave.
The sign was found in the third floor of City Hall in storage about a year ago. For many years it had been a gateway sign at the entrance of the village.
The sign was given a fresh coat of paint with the art work touched up by students in Jennifer Scott's art class in Medina. It was a project as part of Make An Impact Day at the high school in May.
"The art department made it look brand new," Padoleski said.
Once the sign was done, there was the question of how to hang it. The DPW heard the Ridgway Highway Department had a sign post that had been knocked over at the corner of Salt Works Road and West Center Street. That is a gateway to the village and where one of the Medina community signs used to be placed.
Joe Perry, DPW superintendent, and the DPW workers repaired the sign post and mounted it by the Village Clerk's Office, with the sign.
It's been up about two months and Padoleski said it has been popular with village residents, who are glad to see the sign back on the landscape.