Medina firefighters show community cramped fire hall in need of repairs, more room
MEDINA – Firefighters and Medina Village Board members gave the community a tour of the fire house on Sunday, showing tight quarters, eroding floors, cracking walls and other deficiencies.
The board is looking to put an addition on the firehall that can better accommodate the larger fire trucks. The village also needs to replace the 27-year-old ladder truck, said Mayor Mike Sidari.
The board expects to move forward soon with a plan for an addition on fire hall that would be approximately 62 feet, 8 inches by 88 feet, 8 inches. That addition, plus repairs to the existing fire hall, would be about $4.5 million, according to a report from the Barton & Loguidice firm.
The village will pursue no-interest or low-interest financing through the federal U.S. Department of Agriculture and other agencies, Sidari said.
The addition would be on the current fire hall on the west side in an area that is currently a parking lot. That addition is needed to house a new ladder truck. That truck could be $1.5 million. Fire Chief Matt Jackson said the lead time for a ladder truck is 39 to 42 months.
The village will need to seek bids on a new truck. Medina is looking to get a truck with a 100-foot-ladder, up from the current 75 feet.
The current truck is often in need of repair, and Mayor Sidari worries it may need to be taken out of service before a new one is ready.
The ladder truck goes out on about 350 calls a year, including about 40 for mutual aid. These are some of the most serious fires in western and central Orleans County.
Fire Chief Matt Jackson said the current ladder truck poses safety concerns for Medina firefighters and other departments on mutual aid calls. The truck caught on fire responding to a call on Dec. 20, 2021 in the village.
He said the truck has many plumbing and electrical issues that have caused failure during "multiple fire operations."
Other deficiencies include:
cracked windshield unable to be replaced due to age
alternator and starter have been replaced multiple times
chronic fluid leaks causing the constant need for Speedy Dry
chronic air pressure issues delay response while waiting for pressure to build
chronic air pressure issues for cause catastrophic brake failure
master discharge gauge not working, creating unknown pressure on hose lines
front intake for water supply out of service due to age and deterioration
Chief Jackson noted that the National Fire Protection Association recommends that any fire apparatuses 15 years or older should be properly maintained. Any that are still in serviceable condition should eb placed in a reserved status.
That organization also states that any fire trucks older than 25 years should be replaced.
The fire chief is urging the Village Board to act on the report from Barton & Loguidice, a firm that is recommending a 4,980-square-foot addition that would be 60 by 83 feet. That new space would allow Medina to would have room for modern ambulances and fire trucks, be ADA compliant, and meet the department's needs for the next 50 to 100 years. It would also have space for potential female firefighters.
The design for the new hall addition would have bays that allow up to 14 feet clearance. The new ladder trucks are 12 feet to 12 feet, 6 inches in height.
Jackson detailed problems with the 1930s annex for the fire hall. The department moved into the space in the 1950s.
There are cracking walls, sinking floors, eroding floors, poor drainage, leaking sewage, and an unknown condition beneath the fire apparatus bays.
Jackson said there also is significant mold/sludge in the basement and near the furnace, and significant structural issues with the center walkway.
The building also has poor security that is easy to bypass, he said.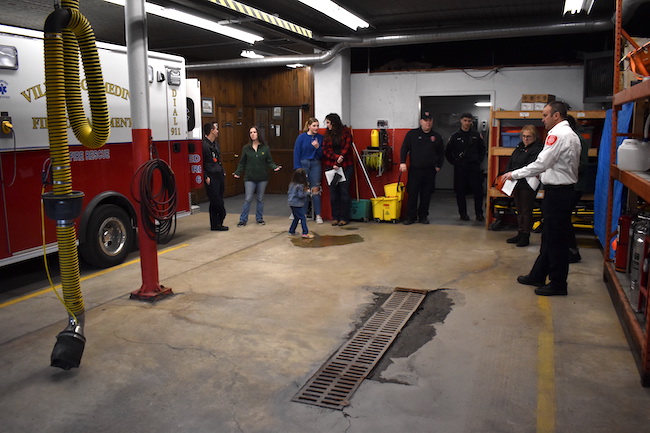 Chief Jackson shows where three ambulances are kept in the original 1908 fire hall. That area is cramped for modern ambulances and also has drainage issues.
If Medina puts on the fire hall addition, the larger fire trucks would go in that facility with the ambulances moved to the 1930s annex. The space where the ambulances are currently kept may be used to house the patrol cars for the police department, Mayor Sidari said.