Medina firefighter graduates from academy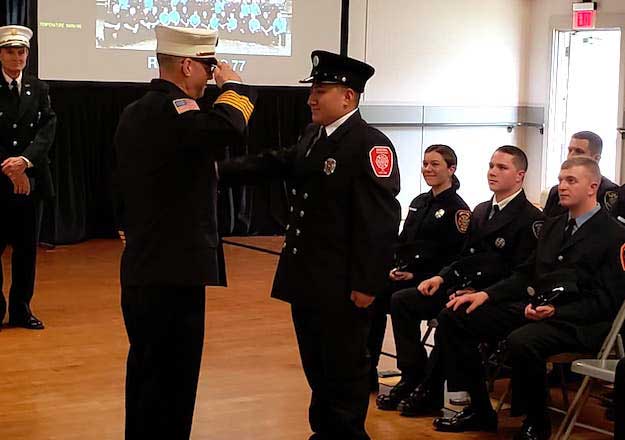 Photos courtesy of Medina Fire Department
MEDINA – Donato Rosario, right, is saluted by Medina Fire Chief Tom Lupo on Friday when Rosario graduated from the NYS Recruit Firefighter Training program at Montour Falls.
Rosario, 20, interned with the Fire Department when he was a senior at Albion High School two years ago. That experience made him want to be a firefighter. He has been a volunteer firefighter with Carlton for about a year.
"I fell in love with it," Rosario said about firefighting.
He initially had a career goal of working as a chiropractor. But he couldn't find an internship with that profession locally. So he connected with the Medina Fire Department and joined firefighters on some of their medical calls, as well as fire scenes.
He was impressed by their professionalism, knowledge of the human body and their life-saving work in their dual roles as medics and firefighters.
Rosario was hired as a career firefighter with Medina, and just completed the 11-week training program through the state. He learned the basics of firefighting, auto extrications, handling hazardous materials, and simulated responses to live burns.
Rosario, one of 56 to graduate in the class, said the program also has a focus on decision-making in many different emergency situations.
"After 11 weeks of the most intense physical and mental training of my life, I'm officially a firefighter," he posted on Facebook on Friday. "Thank you to everyone who has stood by me and pushed me along the way. To my fellow firemen, remember why we do this and always wear your badge with pride and honor, we've earned it."
Rosario is the first member of his family to be a firefighter. He urged more people to give it a try. He proves you don't have to be from a family in the fire service to be welcomed by a local department.
"I would encourage more people to try it," he said. "You can stop by a firehouse and we'll show you around and show you what we do."