Medina earns 2nd highest score of night at Fall Festival of Bands
Revamped Vets Park hosted 9 bands, 1,000 spectators for event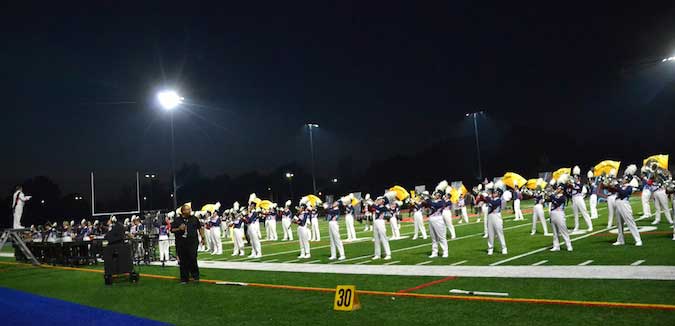 Photos by Tom Rivers
MEDINA – The Medina Marching Band won the SSI division on Saturday night and earned the second highest score overall among nine bands at the Fall Festival of Bands at Vets Park.
The top photo shows Jada Draper, left, leading the band as the drum major. The Medina band performed to a program titled, "Walk the Path."
This is Medina's 53rd season competing as a marching band.
Medina's score on Saturday of 76.6 was topped only by Jamestown, with 77.55. Jamestown competes in the larger national class while Medina is with the small schools.
The scores include:
Small Schools 3: Pioneer, 64.3; Le Roy, 65.55; and Northwestern in Albion, Pa., 70.45.
Small Schools 1: Medina, 76.6
Large Schools 2: West Seneca West, 71.55; Webster, 71.95; and Orchard Park, 74.95
National: Lancaster, 75.55; and Jamestown, 77.55