Medina Dog Park leaders look forward to more improvements at site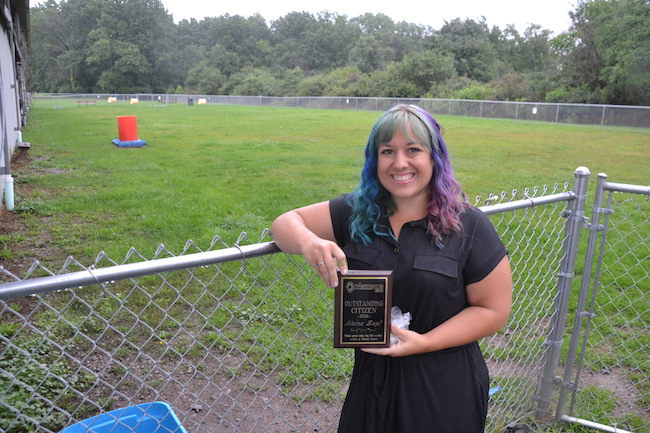 Photo by Tom Rivers
MEDINA – Alaina Zapf, president of the Friends of the Medina Dog Park, is shown Saturday at the park at 260 North Gravel Road next to Medina's former compost plant. She was presented with her Orleans Hub award for being an "Outstanding Citizen" of 2020. Orleans Hub wasn't able to have its usual awards presentation as a group celebration due to the Covid-19 restrictions.
Zapf was instrumental in organizing and raising funds the dog park. She worked with village officials and contractors to get the project open last year with the initial fenced in area for dogs as well as an agility section.
The dog park is a place for dogs to socialize and get some exercise near the village. The dog park is a first in Orleans County. The park is a place for where the dogs can roam leash-free.
Zapf said there are more improvements coming, hopefully in late summer or early fall. That includes a water station for dogs to get drinks and rinse their paws. A small enclosure will also be constructed.
That fenced in area will be 100 by 100 feet. There are currently four memorial benches and two more are coming. Zapf also said security cameras will be added, as well as sponsor signs.
The Friends also want to raise funds for more agility equipment for dogs. The group's fundraising efforts have been hurt by the Covid-19 pandemic. For more information on the Friends of the Medina Dog Park, click here.