Medina district has been serving 1,000-1,200 meals daily to families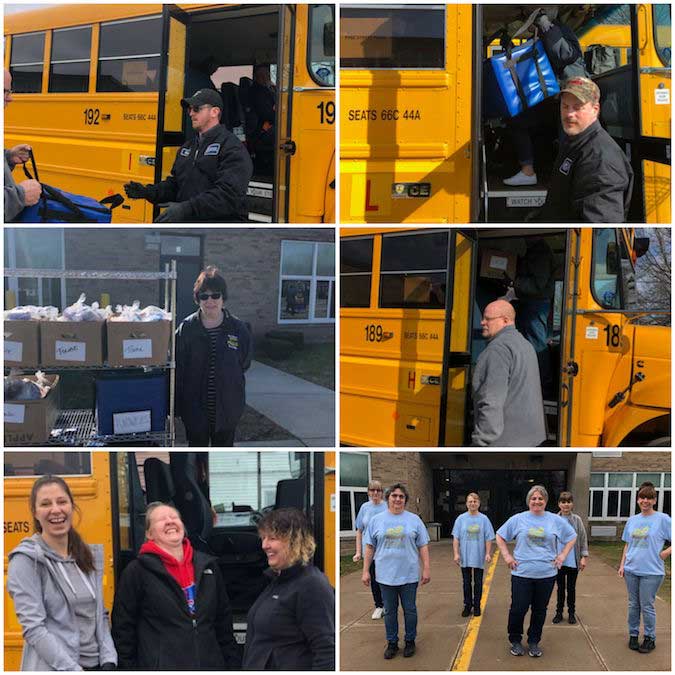 Photos from Rob Dennis, director of transportation for Medina school district
MEDINA – The school district is finishing its third week of "Operation Food Drop" and  has been distributing 1,000 to 1,200 meals daily to Medina families.
District administrators have teamed with cafeteria workers and the transportation department to organize the program and get the breakfasts and lunches to children in the community.
"We will continue throughout Easter break and into the foreseeable future," said Rob Dennis, the transportation director for the school district. "I am very proud of how well our school leadership has come together in these difficult times for us all. Medina Strong, Mustang Strong."
Dennis praised the cafeteria staff led by Maria Haegerty.
"Our transportation department has worked seamlessly with Maria, and her department to get food to the students and families of the district," Dennis said.
The district has been delivering the meals between 11 a.m. and noon each day at the following locations:
• Pine Street Park: corner of Pine Street and Park Avenue
• MAAC Thrift Depot: corner of Starr Street and Orient Street
• Orleans County YMCA Parking Lot: 306 Pearl Street
• Former Towne School Parking Lot: 181 Bates Road
• Shelby Fire Department Parking Lot: 4695 S. Gravel Road
• Ridgeway Volunteer Fire Company parking lot on Knowlesville Road
• Oak Orchard Elementary Bus Loop
Dan Doctor, director of community outreach for Medina Central School, also has been taking food to homeless families in the district.
For more information about the food program, click here.