Medina continues Good Friday tradition by carrying cross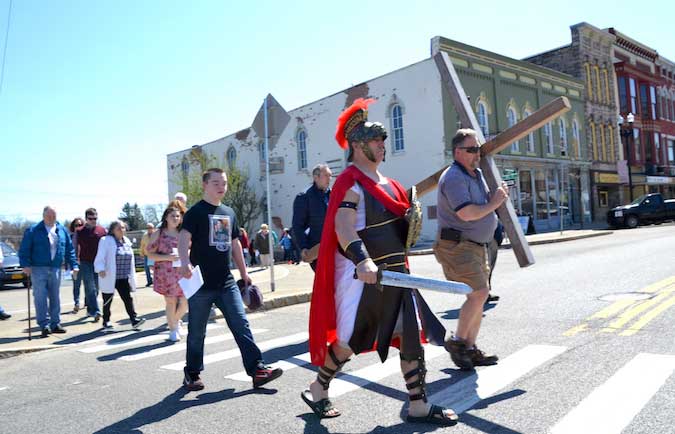 Photos by Tom Rivers
MEDINA – Paul Wengrzycki, a member of the First Baptist Church in Medina, carries the cross across Main Street in the annual "Cross Walk" by the Medina Area Association of Churches.
The churches have been doing the annual "Pilgrimage to Golgotha" for at least two decades. Wengrzycki has participated in carrying the cross for the past 15 Good Friday community walks.
"To a degree you feel like Jesus felt," Wengrzycki said. "He suffered to take away our pain."
This year's walk included someone dressed as a centurion for the first time. Rev. Neil Samborski of the Glad Tiding Baptist Church in Medina dressed as the centurion.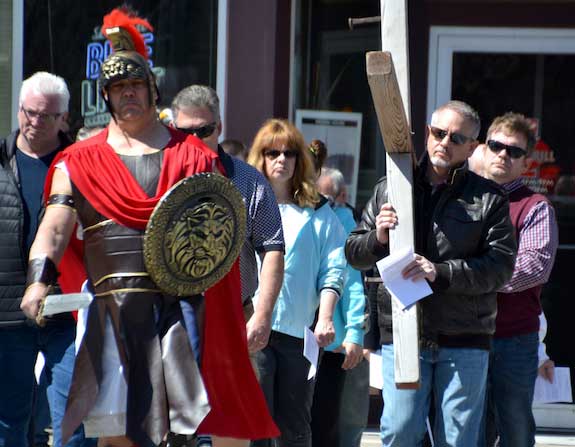 The Rev. Dan Thurber, pastor of the Oak Orchard Assembly of God in Medina, carries the cross with help from Russ Peters, pastor of the Alabama Full Gospel Fellowship.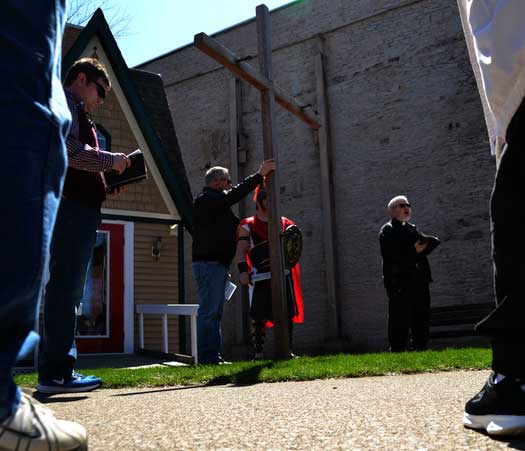 At each stop, a clergy member shared a passage from the Bible. In this photo at Rotary Park, Tony Hipes shared from Matthew 26:47-56, a passage about when Jesus was arrested. Hipes is pastor of the United Methodist Church in Medina.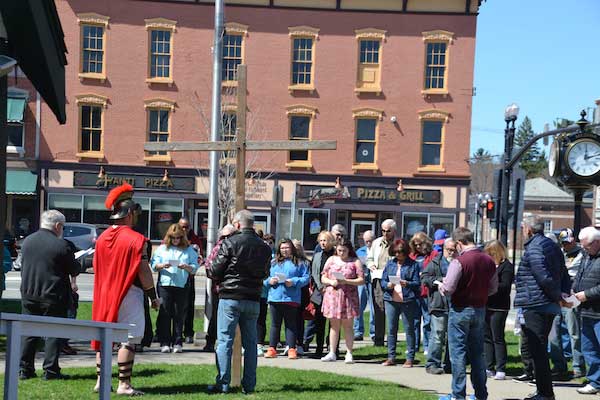 There were about 30 people on the walk. They are pictured here at Rotary Park, one of seven stops on the walk.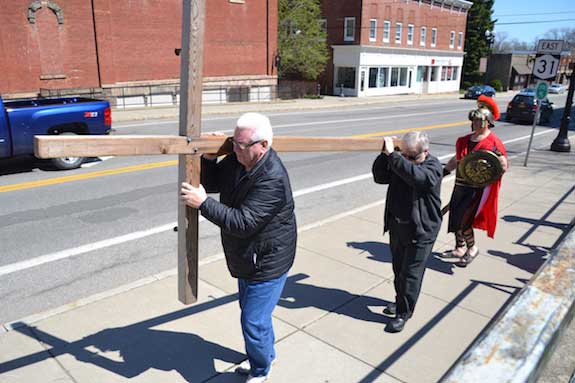 Michael Stephenson (left), pastor of the First Baptist Church in Medina, and Tony Hipes carry the cross from Rotary Park to the Canal Basin. They are shown on the sidewalk on East Center Street.
There will be a Good Friday service 6:30 p.m. today at Oak Orchard Assembly of God and at 8 p.m. at the United Methodist Church.
There will be a sunrise worship service on Easter at 6:30 a.m. at Boxwood Cemetery.