Medina company accepting messages of gratitude today for community display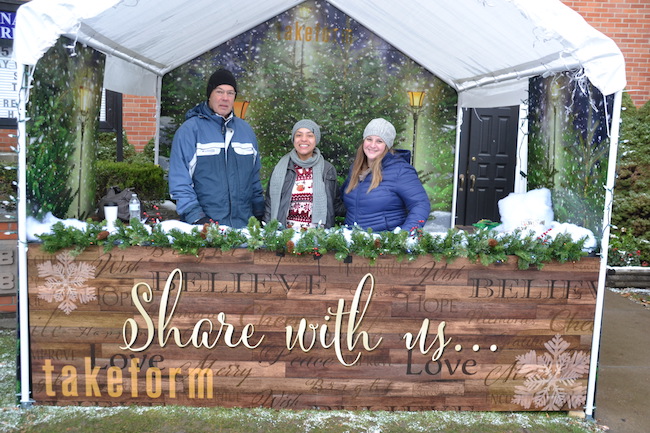 Photo by Tom Rivers
MEDINA – Takeform employees Dave Kozubal, Tosha Boyle and Shannon Dent are at a booth this morning that was created by the company as part of Medina's Olde Tyme Christmas celebration.
Takeform will be on Main Street by the Presbyterian Church today until 10 p.m. to accept messages about gratitude.
The company will use those words and messages to create a display at Rotary Park from mid-December until mid-January.
Takeform has been a big part of Medina's Parade of Lights and holiday celebration in recent years. It twice was the champion in the Parade of Lights, and donated typography decorations for Rotary Park to celebrate the Christmas season.
This year, Takeform decided it wanted to emphasize a feeling of gratitude, especially during a time of suffering and disruption from Covid-19.
Takeform employees want to hear from the community what they are thankful for. Takeform will also be giving away cutout ornaments in celebration of the 2021 Parade of Lights.