Medina community mourns loss of Cheyenne Farewell in 'senseless tragedy'
'People just loved her. She had the most joyous laugh.'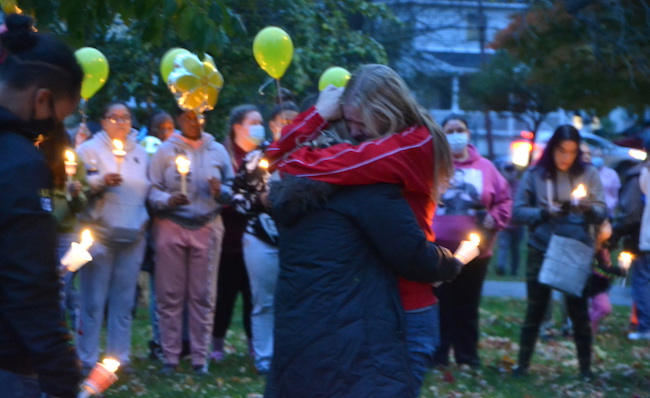 MEDINA – Rochelle Horner hugs Destiny Satkowski during a candelight vigil this evening at State Street Park in honor of Cheyenne Farewell, who is Horner's daughter and a close friend of Satkowski.
Cheyenne was shot and killed at about 12:20 a.m. Saturday during a Halloween party on Niagara Street in Lockport. Five others were wounded by gun shots including two current Medina High School students.
"People just loved her," said Satkowski, who graduated with Farewell in 2018. "She didn't care what color you were, who you liked or where you were from. She treated everyone the same. She was a friend you could count on. She had the most joyous laugh."
Satkowski played soccer with Farewell, and said Cheyenne was a big reason when Destiny started playing. Destiny continues to play soccer at Slippery Rock University in Pennsylvania.
Horner in the top photo is wearing her daughter's red soccer jacket from Medina.
Horner and Cheyenne's father, Jeff Farewell, both thanked the community for the support and for all the love they showed Cheyenne over the years.
Horner said her daughter connected her to so many of her friends, making her feel like she has many daughters and sons in Medina.
Lockport police are looking for information in the crime, where two people approached a metal door of a garage and one of them opened fire on the closed door. They two they took off running and haven't been apprehended. Anyone with information is asked to contact Lockport police detectives at (716) 433-7700, or the confidential tip line (716) 439-6707.
Mark Sanders, pastor of the Refuge Temple in Lockport, said the crime was an act of cowardice. He asked God to bring justice for the family. He urged anyone with information about the crime to reach out to the police.
Sanders said he has spoken with teens at the party and they are devastated by the loss of Cheyenne and the carnage they witnessed.
"These kids have experienced something no kid should ever have to experience," he told the group at the vigil. "They have experienced something no adult should ever experience."
---
'These weren't troubled kids or bad kids – they were just kids having a good time. Right now they are broken over nonsense, ignorance and cowardice.'
---
Sanders urged the Medina community to continue to support Cheyenne's family in the years ahead.
The kids at the party don't bear fault for what happened, Sanders said.
"These weren't troubled kids or bad kids – they were just kids having a good time," he said. "Right now they are broken over nonsense, ignorance and cowardice."
Cheyenne was a student at Brockport State College, where she was studying to become a therapist and writer. She was open about her mental health struggles in the past.
She wanted to break down those barriers and urged more people to talk about mental health and get help, Satkowski said.
Anastasia Smith, another 2018 Medina graduate, said Cheyenne shared about fighting depression and was a strong advocate for wellness.
She was very accepting of others, and if they made mistakes she didn't cast judgement on them.
"Cheyenne was a completely radiant person," said Smith, 19, an English major at Saint Bonaventure University. "She lit up every room she went into. She loved everybody and wanted the best for everyone."
Smith said she Farewell stayed in touch through Snapchat and text messages. She was very encouraging to others and would find time for everyone.
"When she smiled at you it was like the Sun," Smith said.
She wants to see the perpetrators brought to justice very soon.
"It was a totally senseless crime," Smith said. "There was no motivation. They just went there to hurt people."
Mark Kruzynski, the Medina district superintendent, said grief counselors will be at the school district on Monday, including counselors from other districts and BOCES to support students and recent graduates.
He was grateful to see the big turnout at the vigil.
"This is where they can connect with each other and lean on each other," Kruzynski said. "That's why something like this is so important."