Medina community, elementary students celebrate Arbor Day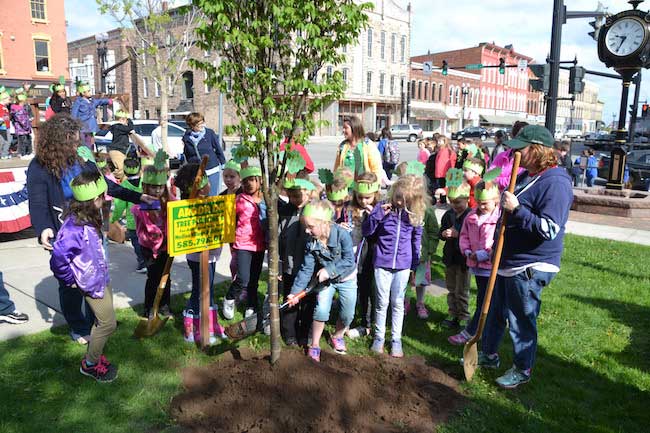 Photos by Tom Rivers
MEDINA – The Medina community held its annual Arbor Day celebration this morning with about 500 students in grades K through 3 at Oak Orchard Elementary School.
The students helped plant four trees at Rotary Park on Main Street. The students also sang three Arbor Day songs.
This year Medina is planting 83 trees, mostly along areas of Eagle and Pearl Streets with additional plantings throughout the village. The village has been recognized with the Tree City USA designation by the National Arbor Day Foundation. The award honors Medina's commitment to community forestry.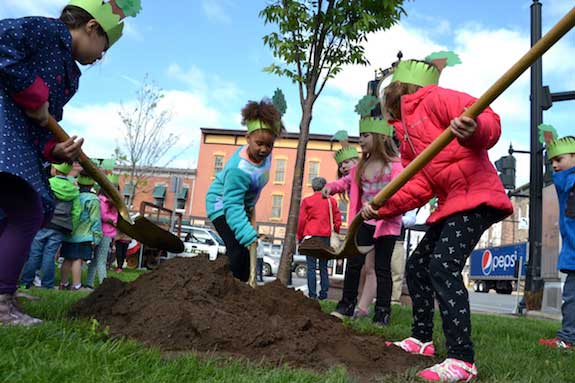 Ava King (center), a kindergartner, tosses some dirt on a newly planted tree at Rotary Park. This is one of four new trees in the park that are the Musashino Zelkova variety. These trees are ideal for street use. They have tightly upright branches that allow good vehicle and pedestrian clearance.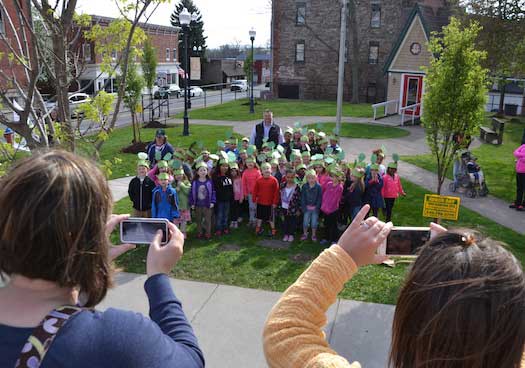 This group of kindergartners poses for a group photo after the Arbor Day celebration.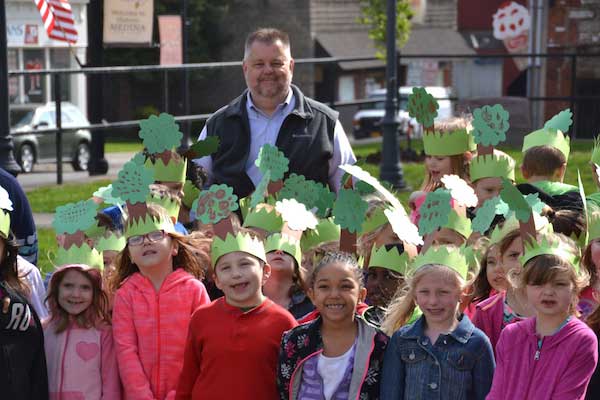 Chris Busch, the Medina Tree Board chairman, joins the kids for the photo. This is the 13th year Medina has held the Arbor Day celebration. Busch and the Tree Board presented a "Friend of the Urban Forest" award to Oak Orchard Elementary School for their participation in the Arbor Day program.
"They have been supporters from the very beginning," Busch said about the school. "A celebration isn't a celebration without the kids. They are also the future stewards of our village forest."
Candlelight Cabinetry in Lockport also was honored as a "Friend of the Urban Forest" for the second straight year. The company makes a generous donation to support tree planting in Medina.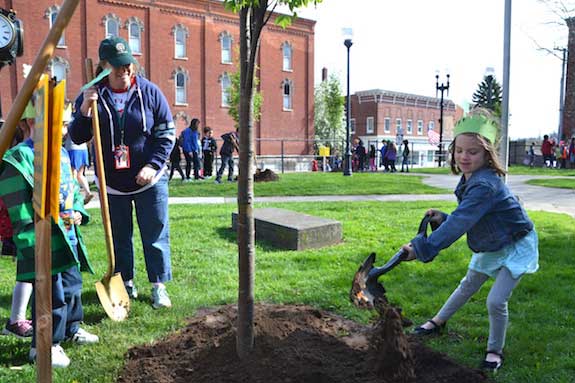 Talia Rupp, a kindergartner, helps with the tree planting. Nicole Goyette (left) is the Arbor Day Coordinator for the village and Creative Studies Teacher with the Medina Central School District.