Medina businesses were determined to give out candy for Beggars' Night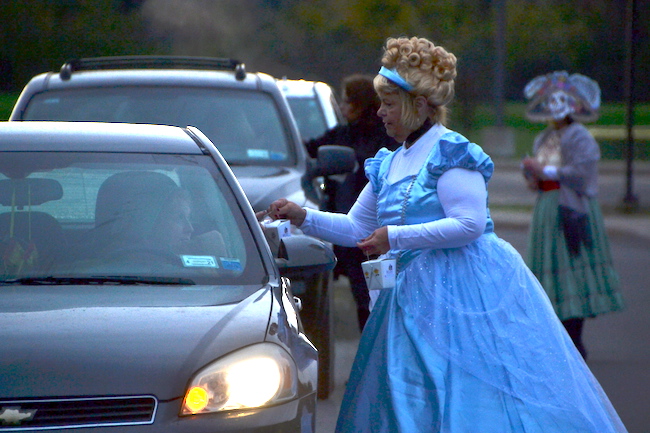 Photos by Tom Rivers
MEDINA – Kathy Blackburn dressed as Cinderella and hands out boxes of candy and treats to a lineup of vehicles for beggars' Night in Medina.
The event is normally in Medina's downtown with about 1,000 kids dressing up in costumes and going to each business for candy.
Due to the Covid-19 pandemic, the big crowd of children wasn't allowed by the Orleans County Health Department. The state has capped gatherings to no more than 50 people.
Medina Area Partnership brainstormed how the event could continue and decided to do it drive-through at the Medina Central School campus.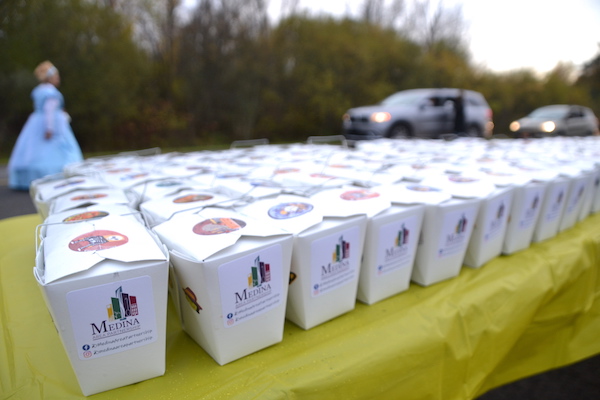 MAP members filled more than 600 boxes and bags with candy. About 500 were gone in the first hour. The event was advertised as 5 to 7 p.m., but cars were lined up by 4:30.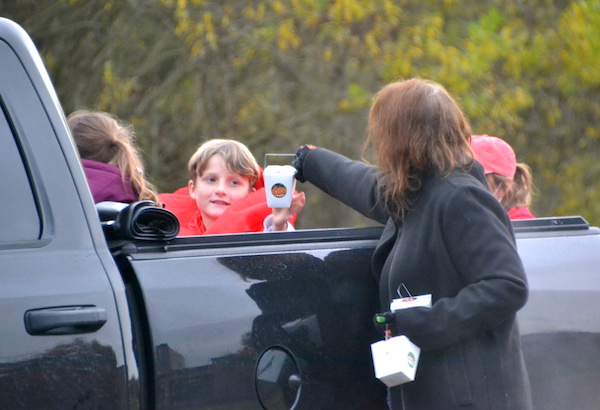 Cindy Robinson hands a happy kid a box of treats.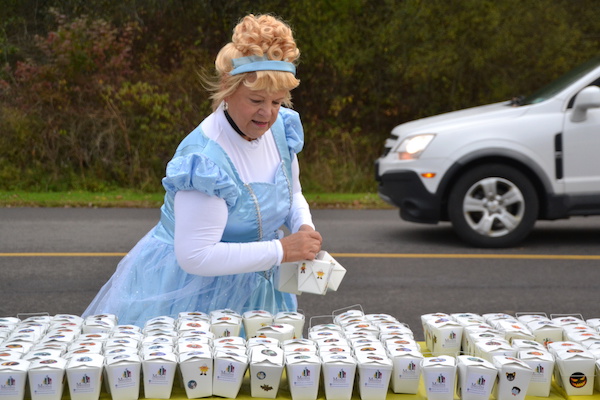 Kathy Blackburn gets more boxes of treats ready for kids. Many of them dressed up in costumes for Beggars' Night.
"The kids have had a rough year," Blackburn said. "The Medina Area Partnership thought it would be great for the kids to continue Beggars' Night. So many things have been taken away from them this year. We didn't want to take Halloween away from them, too."
Medina is having trick-or-treating on Saturday from 5 to 7:30 p.m. in the village.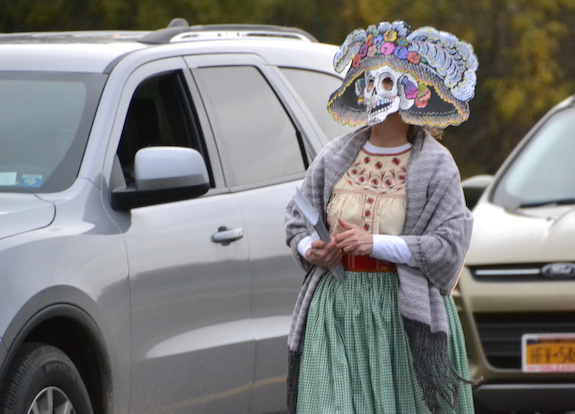 Karen Canning, the GLOW traditions program director and coordinator, is dressed in a Day of the Dead mask. Cannign has helped organize big Day of the Dead celebrations in Medina in recent years.
There won't be a big party this year, but there are craft supplies, including materials to make a mask like hers. Those supply are at Lee-Whedon Memorial Library and the Orleans County YMCA.
There are also instructional videos for celebrating the Day of the Dead on MedinaDoD.com.
Mariachi De Oro Mexican Grill on Maple Ridge Road also has an ofrenda on display at its outdoor patio. An ofrenda or home altar includes bright aromatic marigolds, with petals forming a path to lead the souls home.
Candles give welcoming lights and incense gives additional guidance and guards against unfriendly spirits. Photos, mementos and favorite foods of loved ones are placed on the altar in this Mexican tradition to honor ancestors.