Medina band wins first place in Chicago at Music in the Parks Festival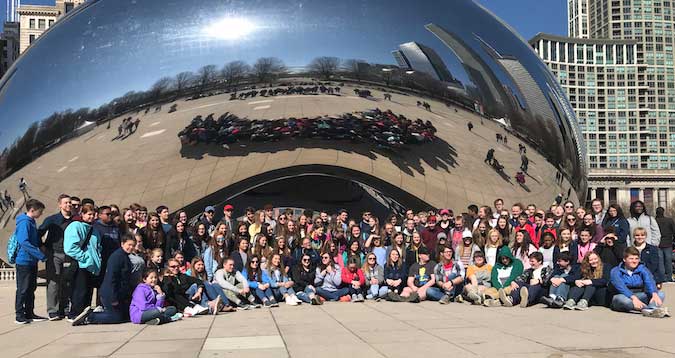 Courtesy of Medina Mustang Band, Kathy Dreyfus, publicity chairwoman
The Medina Mustang Marching Band traveled to Chicago from Thursday through Sunday to perform in competition in the Music in the Parks Festival.  The photo is the 2018 Spring Band in front of "Cloud Gate," a public sculpture and centerpiece in Millennium Park.
The festival was started in 1981 and is a day-long event for students of choral, orchestral and band ensembles held annually across the US.  Music groups perform before adjudicators who rate the ensemble and then awards are issued at the end of the day.
In concert band, Medina won first place in Class A with a score of 96 and a superior rating. In Jazz, Medina took first place in Class A with a score of 96, the overall high jazz score. Alyssa Beyer was recognized as best jazz soloist.
In Parade, the band also won first place in the large band division with a score of 95. There were approximately eight groups from NY, Michigan, Virginia, Nevada, North Dakota and Illinois.
Jim Steele, Medina band director, said the kids did a great job in their performances.  The chaperones are to be commended for all of their diligence in keeping everyone on track with their busy schedule.
In addition to the competition the group went to a Chicago Cubs game, The Blue Man Group, Willis Tower, the Navy pier and the Six Flags amusement park in Gurnee, Ill.
The band will perform next at the Gorham Pageant on May 11-12 followed by the Memorial Day parade.