Medina band takes 3rd at states
SYRACUSE – After months of hard work, the Medina Mustang Band competed in the state competition Sunday at the Carrier Dome for the 40th time on Sunday.
The Medina students had their best performance of the season, earning 90.00 points in the Small School 1 Division.
That was good for third place at the NYS Field Band Conference out of nine bands in the division. Medina was topped by East Syracuse Minoa, second at 90.15, and New Hartford, the state champion with a score of 90.90.
Jim Steele, the Medina band director, praised the students and their supporters for the strong showing in Syracuse. The crowd from Medina gave the band a "roar" when they entered the field.
"The kids did everything that we asked of them and it did not fall short as the crowd's reaction was the best of the night from what I heard," Steele posted on the Mustang Band Facebook page. "The performance was on point and I could not be more proud of the kids, the wonderful booster organization and my staff for making this the most memorable season to date."
The band has 135 students. Steele praised them for their effort and commitment to the program.
"As I have told you time and time again live with your eyes wide open and with a full heart and everything will be fine," he posted on Facebook.
The day started off at 8 a.m. with the "Dome Breakfast" put on by the Boosters for the students and their families as a form of pep rally.  From there the students, staff, boosters and all of the equipment traveled to Hobart College where they practiced for three hours before heading to Syracuse for more practice and then their performance.
The band was led onto the field by Brad DeWaal, a former Marine and soloist with the Hawthorne Caballeros Alumni Band.  The matador uniform worn by Jadiel Flores of Medina was made by Karen Furness.
1st place scores for the other classes are: SS3, Vestal with 80.20; SS2, Northwestern with 82.10; LS3, West Seneca with 84.75; LS2, Cicero North Syracuse with 89.15; and National, Arlington with 96.75.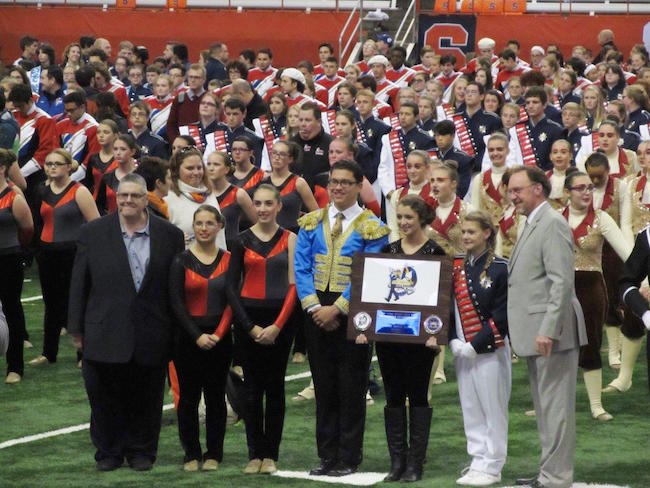 Medina band leaders accept the third place award on Sunday at the state championships.