Medina band takes 3rd at state championships in Syracuse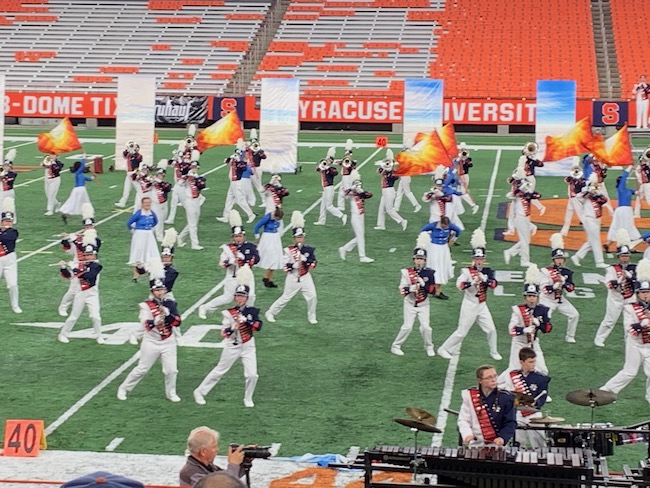 Photos and information courtesy of Medina Mustang Band Boosters
The Medina band finished third on Sunday in the SS1 class at the championships for New York State Field Band Conference. Medina's score of 90.0was bested Mineola in 1st at 93.67 and New Hartford in 2nd at 93.15. There were 9 schools in the SS1 class.
The New York State Field Band Conference celebrated its 50th anniversary on Sunday with the championships at the JMA Dome (formerly the Syracuse Carrier Dome).
A total of 53 schools participated from around all of NYS including Northwestern from PA.  The show in its entirety  ran from 8 a.m. and concluded at 10:30 p.m. In addition to the competing bands the UB Thunder of the East and Syracuse's Pride of the Orange gave exemplary performances to entertain the crowd and show students that their marching band career doesn't have to end after high school.
The National Class consisted of 9 competitors with Cicero-North Syracuse earning 1st place with a score of 96.80.
Other winners were Division Ave in SS3 with  88.40; Roslyn in SS2 with 89.07; Sachem in LS3 with 86.15 and Hicksville in LS2 with 89.45.
It was a busy week for the Medina students with lots of practices, a Senior Recognition ceremony at the high school on Wednesday topped off with a Dome breakfast on Sunday morning as a form of pep rally.
Director Matthew Jaeger addressed his students beforehand with words of encouragement reminding them of their accomplishments from the start of band camp in August to their performance at the Dome.
Their success for the season isn't measured just by their standing at the Dome, but by their overall growth in the season and how they represent the school and the Medina community.  They have much to be proud of. That sentiment was expressed by a number of people who were not from Medina but commented how much they've enjoyed Medina's shows over the years.