Medina band presents awards to students and supporters
Press Release, Medina Mustang Band
MEDINA – The 46th annual Medina Mustang Band Banquet & Awards ceremony was held Friday at the White Birch Golf Course in Lyndonville.
It was an evening of awards and reflection on the many accomplishments in the 2016-2017 school year.  Special guests included Kevin Lasky, Assistant High School Principal; Wendi Pencille, BOE President; the Evoy family and Jonathan Seiler, founder of the Steele Family award.
Also present were three members of our local VFW organizations – Fred Heschke, Glenn Whitmore and Dave Kazmerzak.  These gentlemen gave recognition to the band and its support of the community, along with an award to Kyla Leno and Abby Griffin for playing taps at the Memorial Day ceremony.
The Booster organization was credited for their continued dedication and commitment to the band. Outgoing officers were recognized and thanked for their help as well as the incoming officers.
Instructional staff were recognized:  Drill & Marching – Jeanette Sheliga; Color Guard instructors – Katie Granchelli ; Percussion Instructors – Jeff Pask & TJ Gray;  Pit instructors – Terry Steele & Dave Stacey; Color Guard Design & Instruction – Vinnie Monacelli & Kristen Costa;  Assistant Band Director – Becky Botsford; Assistant Band Director & Color Guard instructor – Diana Baker. Other staff who were not in attendance but credited for their work were Jerry Kelsey & Joe Organisciak – Music Arrangers;  Joe Guadagnino & Brian King -Percussion instructors and Robin Wills – Visual instructor.
The Harry L. Dinkle Award was established to recognize someone who is not a Booster Officer but who volunteers a great deal of personal time & effort to the program.  This year's recipients are Alan Bilicki & Doug Waild.
The Evoy family established a scholarship in memory of the late Jeff Evoy, our former superintendent and staunch supporter of the band program.  This year's scholarship was given to Kristian Snyder.
The NYS Field Band Conference Scholarship was given to Madison Holland.  The Mustang Band Service Scholarship was established in honor of past boosters & donations were made in memory of deceased boosters.  This year's recipient is Victoria Schicker.
The Mustang Band Booster Memorial Scholarship was given to Kyla Leno.  The Steele Family Award was established in January 2016 by Jonathan Seiler (Mrs. Steele's brother) and is given to a Senior who has given their best throughout the year for the betterment of the program.  This year's recipient is Abby Griffin.
The Joseph C. McKain award is given to a Junior and a Senior in recognition of their dedication & commitment to the band.  This year's recipients are Devin Hogan (a Junior) and Kyla Leno (a Senior).
The Alfred Hartway Drum Major Award was started in 1968 in honor of a man who was a bus driver and always involved with the band. This year's recipients are Madison Holland, Kyla Leno and Jadiel Flores Medina and their names will be engraved on the plaque that hangs in the band room.
Recognition was given to the Winter Guard program.  The Cadet Guard consisting of 23 students performed their show entitled "There's No Place I'd Rather Be" by the Pentatonix.  They placed 2nd & received a silver medal at the Championships on April 2nd.  The Varsity WG performed in the Scholastic A class & their show was "Framed".  At Championships they placed 2nd & received a silver medal.  Congratulations went out to Vinnie Monacelli, Kristen Costa & Diana Baker for their hard work & commitment to this season.  Special thanks go out to the boosters led by Sean Callard who designed, made & hauled the guard props all season.
The NYSSMA Solo Festival was held in May at the Lewiston-Porter Central School.  A number of Middle & High school students participated.  Overall they achieved scores ranging from Excellent, Outstanding, A and A-.
Outstanding Band Member Awards were given in 3 categories. Outstanding Rookie went to Ben Griffin (brass), Victoria Potter (woodwind), Margaret Klotzback (percussion) & Destiny Jones (guard). Most Improved went to Erin Dunham, Bryce Quintern, August Pietrafesa & Izabella Zimmer. Most Valuable went to Kyla Leno, Brigid Keller, Ben Zakes & Grace Fuller.
Director's Awards given by Mr. Steele to Kylie Hinman;  given by Mrs. Botsford to Emory Seefeldt; given by Ms. Baker to MdKenna Callard.
Attendance Awards are given to students who have perfect attendance in Fall, Spring & both.  Service Awards were given to students who had between 1 to 13 seasons of participation in the program. Graduating Seniors are given thei medallions.
The Junior Prologue was given by Shelby Green and the Senior Epilogue by Madison Holland.  A slide show of the year's events was prepared by Joe & Katie Granchelli and many parents who submitted pictures.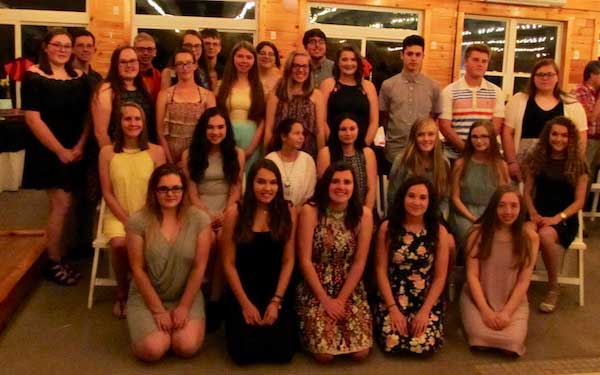 provided photo: The highlight of the evening was the announcement of the 2017-2018 student staff (included in this photo).
Drum Major – Shelby Green
Assistant DM – Brigid Keller & Madison Kenward
Head of Percussion – Jacob Houseman
Color Guard Captain – Kaela Grosslinger
Flute Section Leaders – Kaitlin Washbon & Sarah Cochrane
Clarinet Section Leader- Brianna Meyers
Saxaphone Section Leader – Alyssa Beyer
Mellophone Section Leader – Madison Kenward
Trumpet Section Leader – Toby Kiebala
Trombone/ Baritone Section Leader -Kody Leno
Tuba Section Leader – JP Pietrafesa
Front Ensemble Section Leaders -Grace Masse & Devin Hogan
Head Band Manager – Ben Zakes
Band Managers – Shelby Martin, Jada Draper, Ray Paull, Jessica Granchelli
Attendance Officer – Kali Schrader
Uniform Manager -Maise Griffin & Libby Cook
Secretary/Librarian – Emma Baldwin &Devin Hogan
ColorGuard Managers -Erin Dietz, Alyssa McMullen, Talishiona Feitshans & Avery Vanderwerf
Assistant Guard Captain – Laura Washak
The Fall 2017 show is "With Every Heartbeat" which explores the use of music to portray the different paces of our heartbeat and how that changes with music's intensity & calmness.  While the school year is coming to a close, the Fall competitive season begins with the 1st rehearsal on June 21 and the distribution of music at that time.