Medina band performs at Orchard Park; State championships are next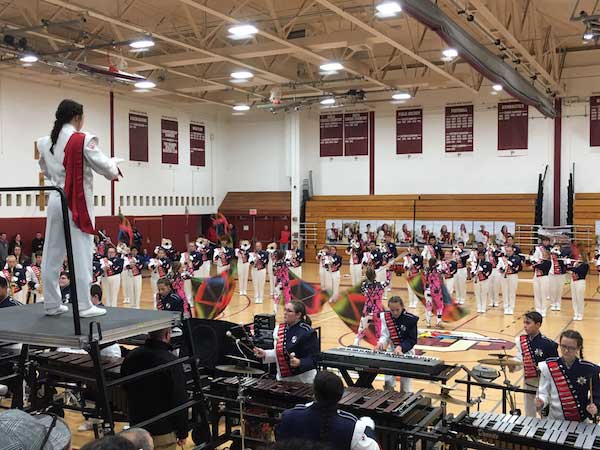 Courtesy of Medina Marching Band
ORCHARD PARK – The Medina Mustang Marching Band traveled to Orchard Park on Saturday to compete for the last time before the state championships.
Twelve bands competed at Orchard Park, with inclement weather forcing the show indoors.  Normally a band performs in competition on an entire football field complete with their entire band, guard and props. In this case the band and guard are crowded into a gym without props and do a "stand still." They play all the music but are not able to convey their show with all of its formations. Subsequently there are no numeral scores given out but instead are given ratings.
In SS1 Medina was given a rating of  "Outstanding." The bands in SS3, Jordan Elbridge, Pioneer, Falconer-Frewsburg and LeRoy were rated at "Excellent."
In LS3 Hilton was "Excellent" with Greece rated at "Outstanding." In LS2 Jamestown, Orchard Park, Webster and West Seneca were "Outstanding." Lancaster was the only National Band and was rated "Superior."
The NYSFBC are Sunday, Oct. 28, at the Carrier Dome in Syracuse. There will be a total of 53 bands performing in 6 divisions starting at 8 a.m. Medina performs in SS1 at 6:54 p.m.