Medina band has top score at Orchard Park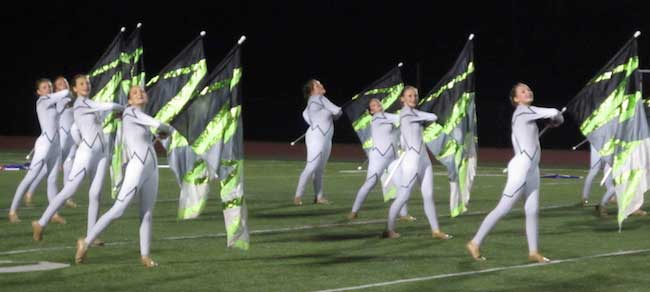 Photo and article courtesy of Medina Mustang Band
The Orchard Park school district hosted the Cavalcade of Bands on Saturday with 13 bands from Western NY and Pennsylvania competing.
It was a beautiful Fall night for this activity as evidenced by the large crowd in attendance. In SS1 Medina took first place with a score of 87.75, followed by East Irondequoit with 82.30.
First place winners in the other classes were Pioneer in SS3 with 73.20; Northwestern in SS2, 78.55;  Webster in LS2, 85.60; and Lancaster in the National class with 87.15.
Every week the band director makes subtle changes to the show to improve the performance and the presentation of Medina show theme for this year, "With Every Heartbeat." This week the band members were wearing shirts with an image depicting an EKG image of a heartbeat.
On Wednesday at 7 p.m. the band will perform their show in Vets' Park followed by a Senior Recognition. This is open to the public and a great opportunity to see these young people perform without having to travel.
The State Championships are on Sunday, Oct. 29, at the Carrier Dome in Syracuse when every band in the conference will compete.  In LS3 there are 7 bands and the show starts at 8 a.m. LS2 has 9 bands starting at 9:36 a.m.; SS3 has 11 bands beginning at 12:25 p.m.; SS2 has 10 bands, including UB in exhibition, starting at 3 p.m.;  SS1 has 8 bands starting at 6:10 p.m. with Medina performing at 7:02 p.m.
The National class has 9 bands beginning at 8:05 p.m. and includes Syracuse University in exhibition.