Medina band earns another 1st in final competition before championships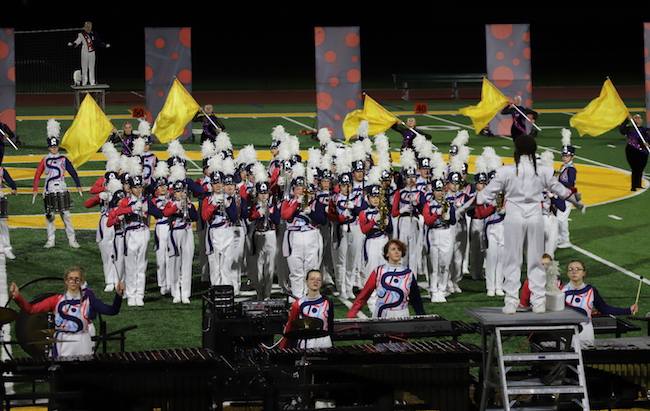 Photo and information courtesy of Medina Marching Band
GREECE – The Greece school district hosted a field band competition on Saturday, the last performance for Medina before the championships on Oct. 31 at the Carrier Dome in Syracuse.
Fourteen bands competed in five classifications at Greece. In SS1, Medina earned 1st place with a score of 92.10 followed by East Irondequoit with 87.50.
In SS3, Marcus Whitman earned 1st place with 80.85 followed by LeRoy with 78.90. In LS3, Greece earned 1st place with 82.65 followed by Hilton in 2nd with 82.0.
Webster was the only contender in LS2 with 87.60. Victor was the only National band and had a score of 90.10.  The evening was capped off with a performance by The All In Brass Band.
The championships at the Carrier Dome will include 50 marching bands competing, involving more than 4,000 students. The day's events are broken down into three shows with bands in different classifications in each show.
Medina is in Show #3 which starts at 5:30 p.m. and includes SS1 and National class bands which start at 7:45 pm. Medina performs at 5:45 pm. Additional info about the championships can be found by clicking here.