Medina band earns 1st in last competition before championships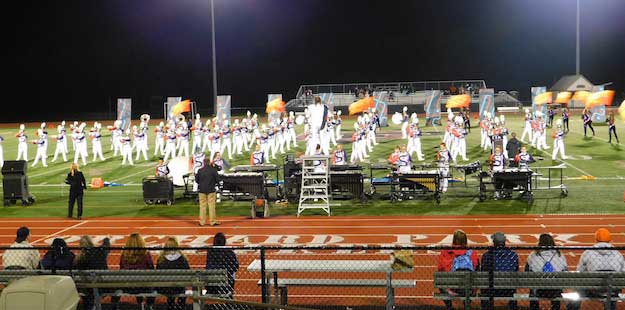 Courtesy of Medina Marching Band
The Medina Mustang Marching Band traveled to Orchard Park on Saturday for the last competition before the championships. There were 14 bands from across Western New York and Pennsylvania that competed in six different classifications.
In SS1, Medina earned first place with a score of 87.85 followed by East Irondequoit in 2nd with 83.80 and Oswego in 3rd with 82.35.
Other 1st place winners were Leroy in SS3 with 71.3; Greece in LS3 with 79.60; Northwestern in SS2 with 79.55;  Orchard Park in LS2 with 83.75 and Jamestown in National with 89.0.
This week coming up before the Dome is busy with practices and a special Senior Recognition Night on Wednesday at 7 p.m. at the Medina High School. You can see a performance of the show. Each senior will be given recognition for their years of dedication to the band.
Championships at the Carrier Dome are Sunday, Oct. 27.  A total of 53 bands will perform in competition starting at 8 a.m. and finishing at 10 p.m.
The event is broken down into 3 shows with LS3 and LS2 classes performing from 8 a.m. to noon followed by a retreat and awards for that group. The SS2 and SS3 classes perform from 12:45 p.m. to 5 p.m. followed by retreat and awards for that group.
The SS1 and National classes perform from 6 p.m. to 10 p.m. followed by retreat and awards.  Medina will perform at 7:15 p.m.
There is a new Dome policy for security purposes which prohibits backpacks and purses. Only clear plastic vinyl or PVC not exceeding 12″x6″x12″ are allowed.  A gallon size plastic bag is acceptable.
There is still room on the spectator bus to the Dome on Sunday. For more information, contact Jim Steele, band director, at 585-317-9389.