Medina band continues winning streak at Webster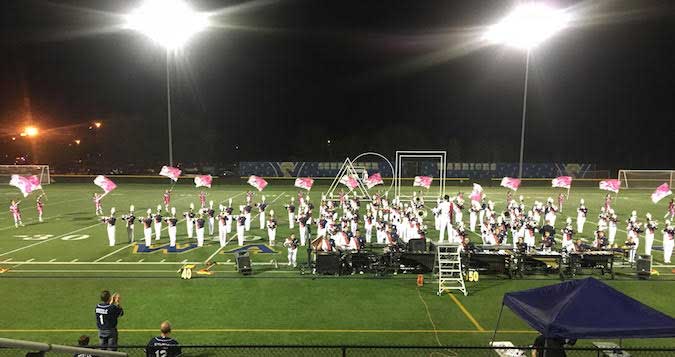 Photo courtesy of Medina Marching Band
MEDINA – The Webster Marching Band held its 33rd annual field show on Saturday with seven bands performing.
In SS1 Medina took first place with a score of 81.90 followed by East Irondequoit in second at 78.45.
Other winners were LeRoy in SS3 with 66.35; Hilton in LS3 with 72.15; Orchard Park in LS2 with 81.70 and Victor in National with 86.05. The Webster band is in LS2 but that performed in exhibition and therefore was not scored.
Amongst Medina's instructional staff are six former members of the marching band including Matt Jaeger, Joe Organisciak, Diana Baker, Jeff Pask, TJ Gray and Katie Granchelli. These individuals know first-hand the value of the program and strive to teach that along with the techniques to be successful. The band will perform again on Oct. 13 at Victor and Oct. 20 at Orchard Park.
The state championships are Sunday, Oct. 28, at the Carrier Dome in Syracuse. The Band Boosters are again offering a charter bus for 55 people for $25 each (not including entrance to the Dome for $19.) This is a great deal because passengers won't have to be concerned with the price of gas, parking fees, thruway tolls or places to park or traffic.
Reservations are being taken now by contacting Jim Steele at 585-317-9389. The cut-off date is Oct. 17.