Medina band claims first in division at Webster event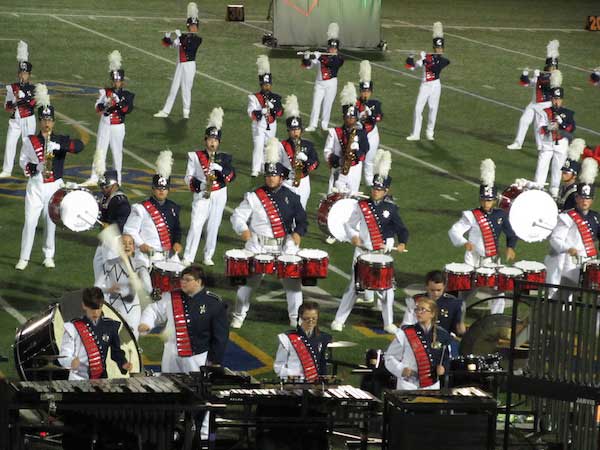 Photo and information courtesy of Medina Mustang Band
WEBSTER – The Webster school district hosted the Autumn Fanfare on Oct. 7, where six high school marching bands performed in competition.
Medina took first place in SS1 with a score of 82.35 followed by East Irondequoit at 76.55.
In SS3 Marcus Whitman was first with 66.45, and Leroy was tops in SS2 with 70. Cicero-North Syracuse won LS2 with 82.85 followed by Webster at 81.2.
The Medina band will next compete on Oct. 14 in Victor and Oct. 21 in Orchard Park before the State Championships in the Carrier Dome in Syracuse on Oct. 29.
The band will celebrate Senior Recognition Night at 7:30 p.m. on Oct. 25 at Vets' Park or in the high school in case of inclement weather. The band will perform their show "With Every Heartbeat" followed by recognizing each senior who will be accompanied by their parents. This is open to the public for anyone who wants to see the show and not have to travel.
The Band Boosters are also are offering a charter spectator bus for $25/seat on Oct. 29 to Syracuse. Passengers will be picked up at the high school at noon and returned to the high school around 1:30 a.m. Passengers will still have to purchase their own ticket at the gate, and they are $18 per person and $12 for seniors and children under 12. Passengers will see all of SS2, SS1 and the National class. Medina performs at 7 p.m.
There are 55 seats on the bus and payments must be in by or before Oct. 14. To make a reservation, fill out the form located on the Medina CSD website – under the Arts then go to Medina Mustang Band – scroll down to "Spectator Bus." Another option is to call Kim Zakes, the Dome Bus Coordinator, at 716-622-9854 or email her at kzakes@medinacsd.org.