Medina band caps season with big haul of awards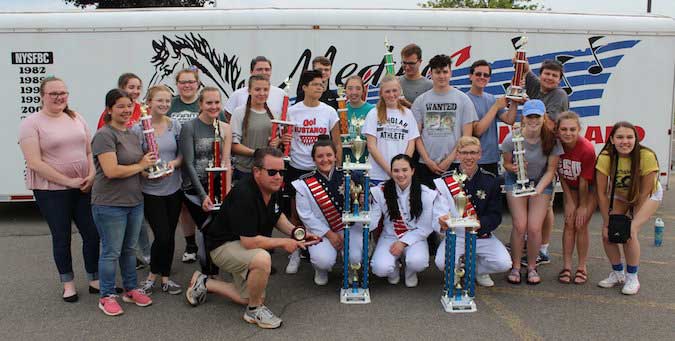 Provided photos from Medina Marching Band
The Sherburne community in Chenango County hosted its 70th Annual Sherburne Pageant of Bands from Thursday through Saturday.
This pageant is the oldest and longest running event of its kind in the state. The Sherburne community , the Volunteer Fire Department and the Sherburne-Earlville Central School District come together to sponsor this event.
There were 44 schools from around the state that participated and this was Medina's first year at the competition. Medina was in Class AA for every event they performed in.

In concert band Medina competed against four other schools and won first place with a score of 96. In Jazz, the Mustangs competed against two other schools and won first place with a score of 97.5. In Small Ensemble, Medina performed a saxophone quartet and earned first place with a score of 96.5.
The parade is a big event with 44 schools performing and the people in town begin setting up their chairs on Friday night up and down the 3-mile route. In Class AA, Medina won first place with a score of 93.5,  first place in Color Guard  with 99 and 1st place in Drumline with 81.  Medina also earned awards for Best Overall Color Guard, Best in Class AA, Overall HS Award and the Band Director Award to Jim Steele.
This was the last competitive performance for the band in the 2018-2019 school year and the season will close with the Band Banquet on June 7.