Medina Area Partnership picks leaders for 2022 with many events on schedule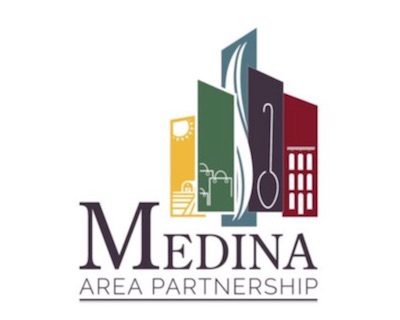 MEDINA – The Medina Area Partnership has chosen its officers for 2022, four of whom are returning to their positions and three who are new to the board.
Keeping their seats are president Scott Robinson, treasurer Laura Gardner, secretary Ann Fisher-Bale and director Tim Elliott. They are joined by vice president Cindy Robinson and new directors Bill Bixler, Cindy Robinson and Gloria Brent.
The Medina Area Partnership was formed several years ago to replace the Medina Business Association, in a move designed to include businesses that were outside the village limits. Several of its members, including president Scott Robinson, were previously involved in the MBA. All have a vested interest in the local area.
Robinson is one of four owners of the Shirt Factory in Medina. He recently assumed the position as director of Marketing, Communications and Outreach for Orleans Community Health. He has served in other roles, including the Committee on Police Reform and Reinvention Collaborative, the Medina Sandstone Society board of directors and was marketing chair of the Medina Business Association.
Gardner is owner of a lily & a sparrow on Main Street in Medina, which she has operated since 2010. She is also an integral part of several MAP committees and helped guide them through their first two years.
Fisher-Bale represents her family's fruit farm, Fisher's Farm Market, which has been a part of the Medina community for more than a century. In addition, she also represents the Hometown Extra, a local, weekly direct-mailed newspaper which serves the Medina community, as well as five surrounding zip codes. She is also an active member of MAP's Events Committee, which recently brought back a sold-out Wine About Winter event.
Elliott currently is manager of 810 Meadworks Axe Range and has been a Medina village trustee for the last six years. He is also a member of the Ridgeway planning board, county planning board and MAP's Events Committee. He is the previous owner of Brushstrokes and Into the Enigma.
Bixler, a resident of Medina for 42 years, owns Seaway Insurance in Gasport, Albion Agencies in Albion and commercial rental property on Main Street in Medina. He was a previous board member and president of the former Medina Chamber and has served for more than 30 years as a member of the Medina Rotary Club.
Robinson is not only vice president of MAP, but owner of the English Rose Tea Shoppe for 10 years and a partner in the newly opened family venture, the Vintage Cigar. She is married to Dr. Jim Robinson of the Medina Veterinary Clinic. She previously served as president of the MBA for 14 years and is a member of the boards of Medina Historical Society and Orleans Renaissance Group.
Brent, an RN, is president/CEO of MDS Consultants, the largest minimum data set consulting firm in the country, known for their expertise in the long-term care industry. She is also owner of Modern Mercantile, which she recently opened on East Center Street in Medina, offering small retail space for local artisans and collectors to sell their goods. She volunteers in the Medina Rotary Club and holds a position on the Orleans Community Health Foundation board. She is also a member of 23 different state healthcare associations across the country.
In addition to Wine About Winter, MAP has a full schedule of events (some returning favorites and several new) planned throughout the year. These include an Easter Bunny and Golden Easter Egg Scavenger Hunt on April 9; a new Murder Mystery to be announced; the Enchanted Faery Festival on June 25; annual sidewalk sales Aug. 4 through Aug. 6; Ale in Autumn on Sept. 24; Beggar's Night on Oct. 28; Moonlight Madness on Nov. 17; Olde Tyme Christmas and Parade of Lights on Nov. 26; and holiday open houses Dec. 1 through Dec. 4.
More information can be found online at www.MedinaAP.org or on the group's Facebook page.