Medina, Albion merchants give kids an early Halloween treat
Beggar's Night draws several hundred in 2 villages
Photos by Tom Rivers
Twin brothers Logan (right) and Landon Scribner, 8, of Medina are dressed as Pokemon characters while headed for treats at Main Street TV & Appliance in Medina on Friday evening during the annual Beggar's Night put on by the Medina Business Association.
Nearly 1,000 kids come out for the event, where downtown merchants hand out candy and treats.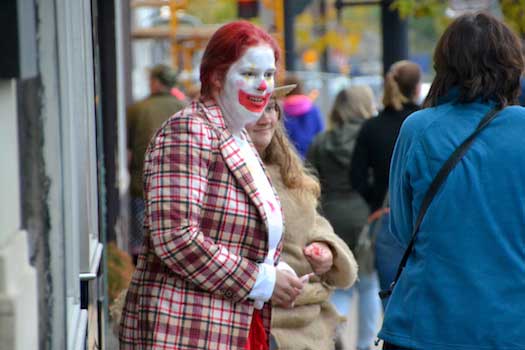 Abbygal Fuller is dressed as a clown and her sister Grace Fuller is a scarecrow. They were passing out candy at Della's Chocolates, which is run by their mother, Susan Fuller.
"I get to see all the children in their costumes and I get to dress up myself," Grace said.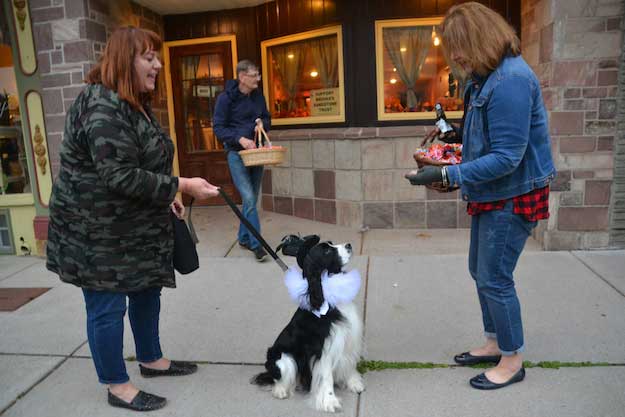 Fitz William "Mr. Fitz" dressed up for the occasion. Mr. Fitz is a 5-year-old English springer spaniel. He is owned by Kelly Herbert, left. Bonnie Heck, right, is the owner of Herbalty Cottage. Her husband Tom Heck is in back.
Herbert recently moved to Medina from New Jersey. She said she enjoys the quaint little town, and the many fun activities in the downtown.
"I love that the town and the businesses support the events," she said.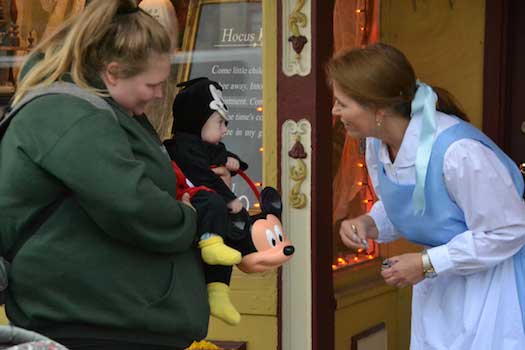 Kasey Sprester, left, of Middleport holds her 6-month-old son, Mathew, while being greeted by Cindy Robinson, owner of the English Rose Tea Shoppe.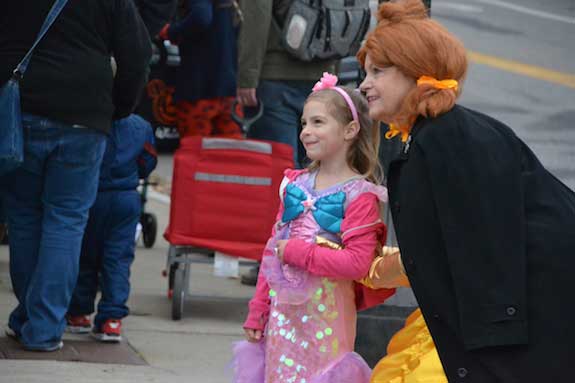 Kathy Blackburn dressed as Belle from Beauty and the Beast and greeted children and their families at the start of the Beggar's Night route. Blackburn always dresses up as a character to kick off Beggar's Night.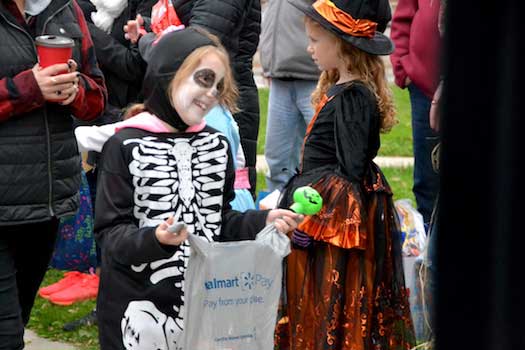 Madelyn Hill of Medina is delighted to get so much candy before Halloween. She dressed up as a skeleton.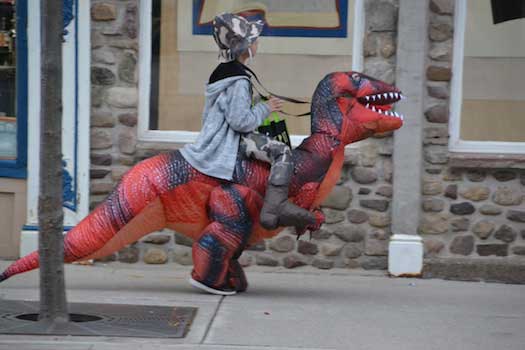 There were a variety of costumes on display, with a dinosaur inflatable very popular.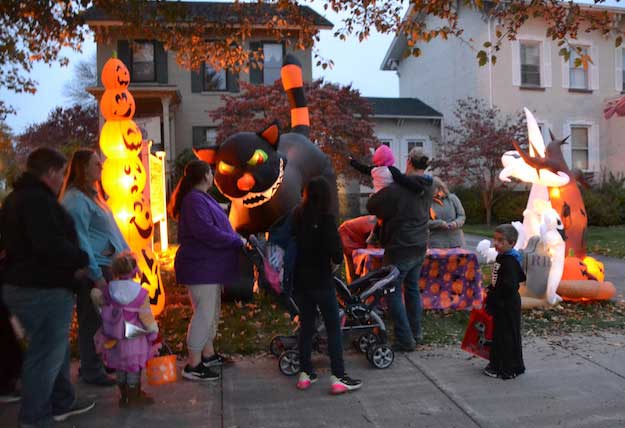 The Albion Merchants Association and Village of Albion also put on their Beggar's Night celebration on Friday. Albion Agencies was among the many businesses and organizations to decorate their store and hand out treats.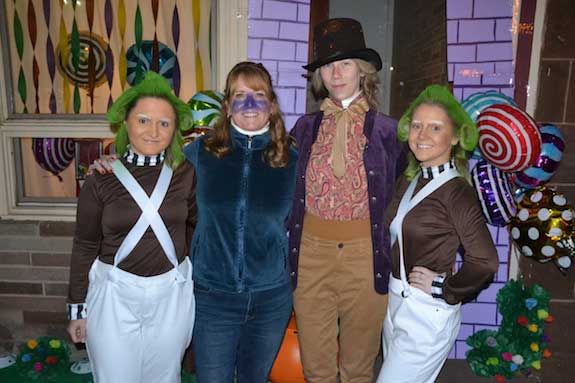 The staff at Roots always wears costumes for Beggar's Night. This year they went with a Willy Wonka theme. Pictured from left are Jenna O'Connor, Lisa Heidemann, owner Amber Mogle, and Gretta Smith.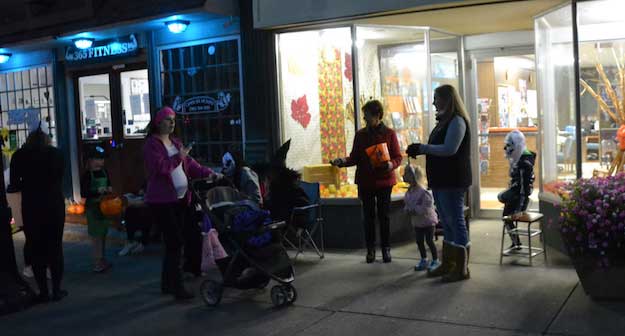 Mitzi Peglow, owner of Orleans Travel, and her daughter Stephanie Spencer hand out candy.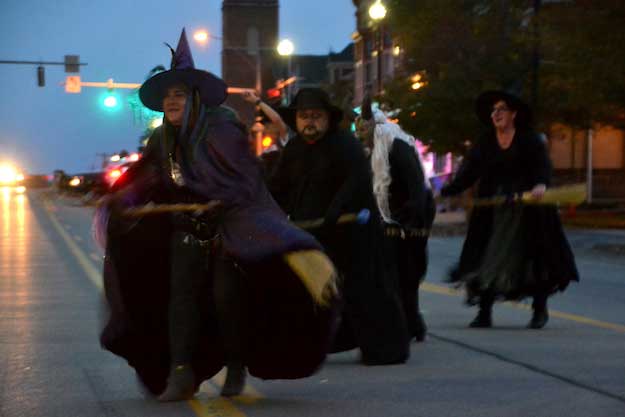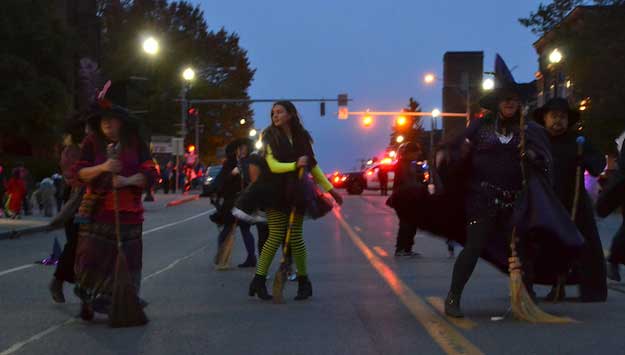 There was also a witches dance on Main Street in Albion.