McQuaid crew team, trying to raise $40K, passes through Orleans on 340-mile canal trip
7 students seeking to help Camp Good Days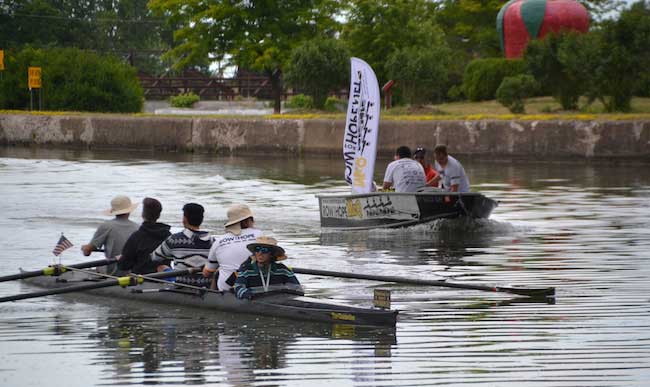 Photos by Tom Rivers: Seven members of McQuaid Jesuit Row Team in Rochester made their way to Medina on the Erie Canal at about 1 p.m. today.
The team is attempting to raise $40,000 for Camp Good Days & Special Times, a camp on Keuka Lake that is available to families whose lives have been touched by cancer and other life-threatening challenges. To learn more about Camp Good Days, visit their website at www.campgooddays.org.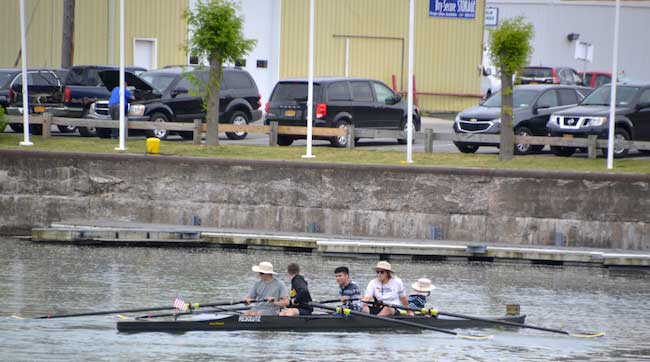 The crew team heads to the Canal Basin in Medina. This is the seventh year McQuaid's crew team is rowing the length of the Erie Canal to raise money for charity. The crew team raised over $200,000 the first six years.
The team has raised $23,000 of its $40,000 goal for Camp Good Days.
The team is on an 8-day trek. Today is the longest effort – 59 miles from Buffalo to Brockport. Some of the rowers already had sore backs and blisters on their hands.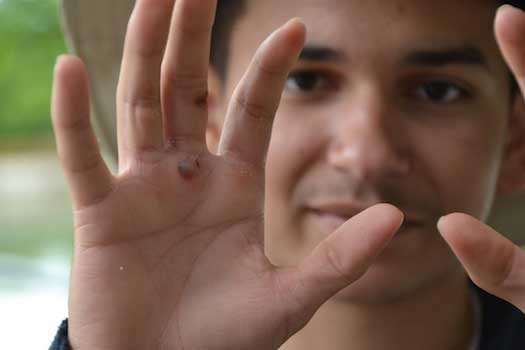 Brian Sanchez, who will be a junior in the fall, shows some of the painful blisters on his hands. He said he hopes they harden up soon and stop hurting.
Sanchez said wanted to be part of the journey with his friends and help the kids at Camp Good Days.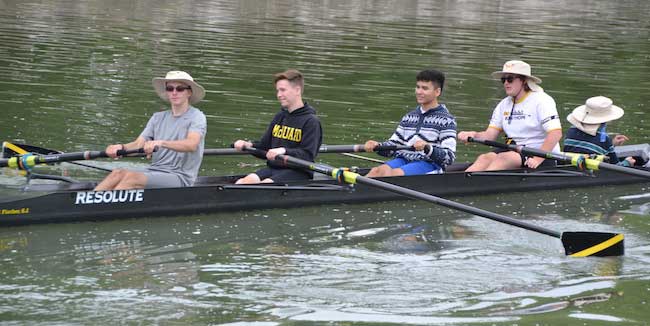 These crew team members include, from left: Gage Gardinier, Paddy Grace, Brian Sanchez, Owen Baira and Jake Penna. Two other members – Patrick Mayo and Rhett Crooks – were in a launch getting a one-hour break from rowing. The crew members row for two hours before getting a one-hour rest.
The crew team will be rowing for about 10 hours each day until reaching Albany. The team typically practices for an hour and a half during its season, so the trip is a big effort above the norm.
"It gets hard really fast," said Patrick Mayo, who will be a senior this fall at McQuaid.
The crew team will be sleeping in tents. Many parents of the team members are riding along at staying at rest stops to check on the team and give them food.
For more on Row For Hope 2018, click here.