Masons honor members with many decades of service
Don and Bernadine Ross lead the way with 75 years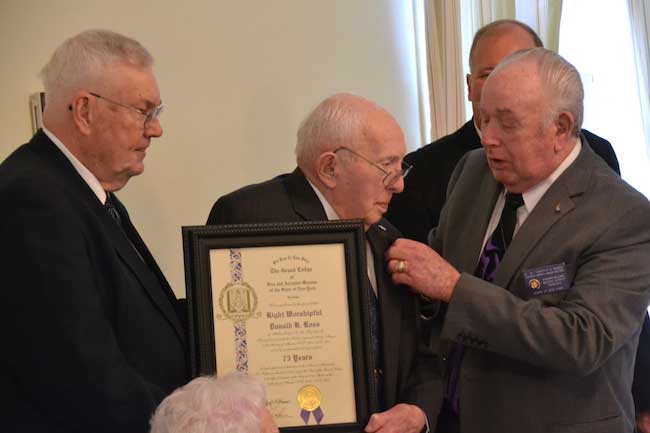 Photos by Tom Rivers
ALBION – Don Ross (center), a member of the Medina Masonic Lodge, was honored on Saturday for 75 years to the Masons. Ross and several other long-time members of the Albion and Medina lodges were recognized during an awards program at the First Presbyterian Church in Albion.
Ross received a framed certificate and pin during the presentation. Tim McGee of Albion, the current junior warden and a past district deputy grand master, gives Ross the pin. James Sullivan, left, of Lockport is a past grand master for the Masons in New York State.
Ross, a Barre resident, ran a plumbing business for 40 years in Albion. He joined the Masons when he was 22. He was a pin boy as a kid, setting up bowling pins on two lanes owned by the Masonic Lodge. The members were always good to him, and welcomed him to join the lodge as a young adult.
Ross was praised for serving the many in many roles over the past 75 years.
"Don has been dedicated, loyal and hard-working, doing almost all of the jobs in the lodge," said Jonathan Incho, lodge master in Medina.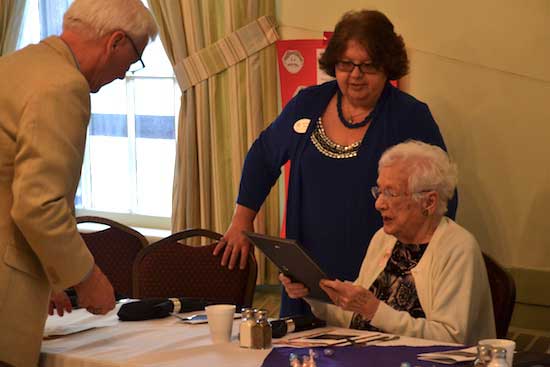 Ross's wife, Bernadine, also was recognized for 75 years of service to the Order of the Eastern Star. She receives a certificate from Brenda Busch, the worthy matron of the Canalside Order of the Eastern Star, and from Steven Pawlak, the worthy patron of the organization.
Mrs. Ross worked with her husband in the plumbing business, running the office. She also has been active in the Order of the Eastern Star.
"She has worked very hard, doing whatever has been asked of her," Incho said.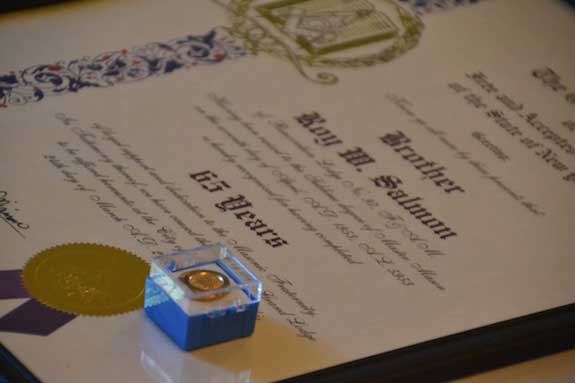 Several other long-time members were recognized for their service to the Masons. This certificate and pin goes to Roy Salmon, who has 65 years of service to Masons.
The Albion Renovation Lodge 97 presented the following awards in honor of service on Saturday:
• 55 years to Rex Horton
• 50 years to both Dennis Smith and David M. Bertsch
• 45 years to Allen B. Lackey
• 30 years to Warren Seager
• 20 years to Keith Bane III and Neal Martin
• 15 years to Scott Kranzmann, Charlie Nesbitt, Stephen E. Coville II and Juan Morales
• 5 years to Alex Allport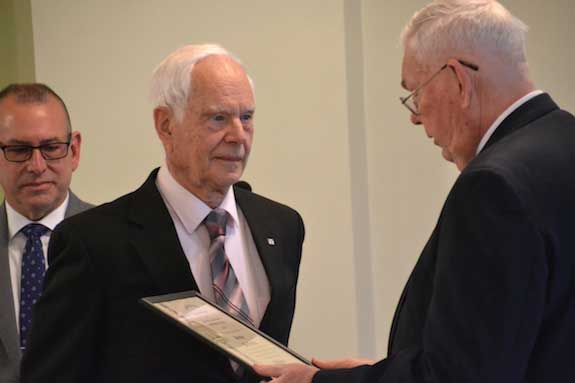 Rex Horton accepts an award for his 55 years of service as a Mason in Albion. James Sullivan, the past grand master for the Masons in New York State, presents the award.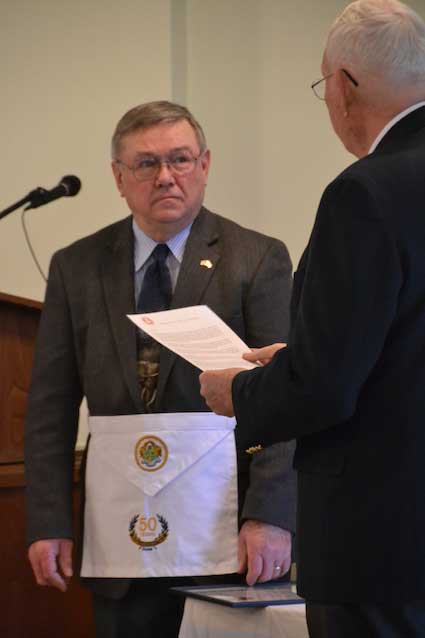 Dennis Smith was honored for his 50 years as a Mason. He was presented a white apron noting the 50 years of service.