Masons get thanks from Strawberry Fest Committee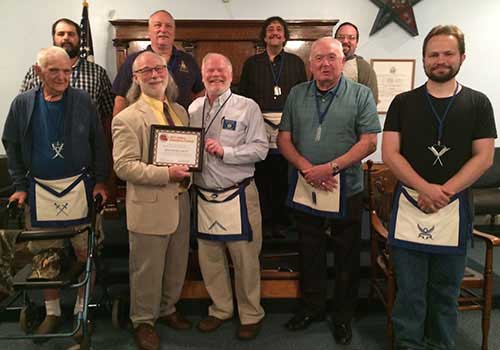 Photo by Amy Fox
ALBION – Members of the Albion Masonic Lodge on Tuesday accepted congratulations for their volunteer efforts at the 2017 Strawberry Festival.
First row, from left: Norman Karcher Sr.; Michael Bonafede, festival coordinating chairman; Steven LaLonde; Timothy McGee; and Alexander Allport; Back row, from left: Jason Herman, Glen Busch Sr.; Joe Gangi Jr.; and Jim Horncastle.
Bonafede presented a certificate of appreciation to the Masons, who are a familiar presence in the festival's food court each year.
Bonafede said the festival coordinators are "thrilled" to partner with the Masons to ensure that the Strawberry Festival remains a wholesome event that offers fun and entertainment for the whole family.
"Having partners like the Masons, we don't have a problem living up to that mission and vision," Bonafede said.