Masonic youth group donates school supplies to Community Action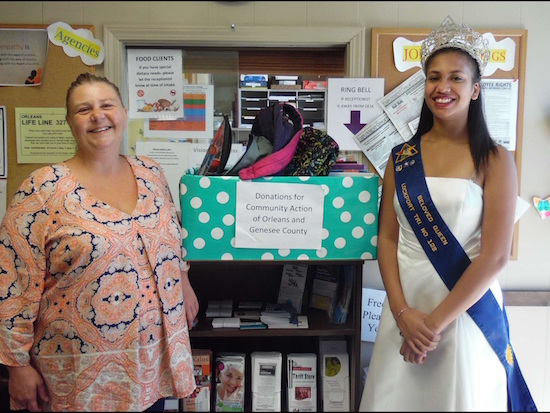 Provided photo, Community Action
ALBION – Annabella Salisbury, an eighth grade student at the Albion Middle School, presents a box of school supplies collected by the members of Lockport Triangle #128 to Michelle Figueroa, advocate of Community Action of Orleans and Genesee.
The box of supplies will go toward the agency's school supply give away. Community Action welcomes more donations before the school year gets started in about two weeks.
Annabella is the current Beloved Queen of Lockport Triangle #128 of the Organization of Triangles New York, a state-wide Masonic Youth Organization for girls age 10-21, and has 11 currently active chapters throughout the state.  The Lockport Triangle group meets on the first and third Saturdays of each month at the Akron Masonic Lodge, 63 John St., Akron.
The organization provides girls with the opportunity to conduct meetings using Robert's Rules of Order, learn parts and work on memorization for the various offices in the group, develop poise and confidences, and participate in fun, social activities.
The Beloved Queen is the leader of the local group, and chooses a charity to fund raise for during her term in office. Annabella chose Community Action of Orleans and Genesee because of the multitude of services the agency provides to residents of the two counties.
In addition to collecting school supplies to donate, the Lockport Triangles held a yard sale, and has several other activities planned to raise funds for CAOG.