Marti's on Main art gallery reopens at former Cooperative Extension in Albion
Building turned into art showcase by Kim and Neal Muscarella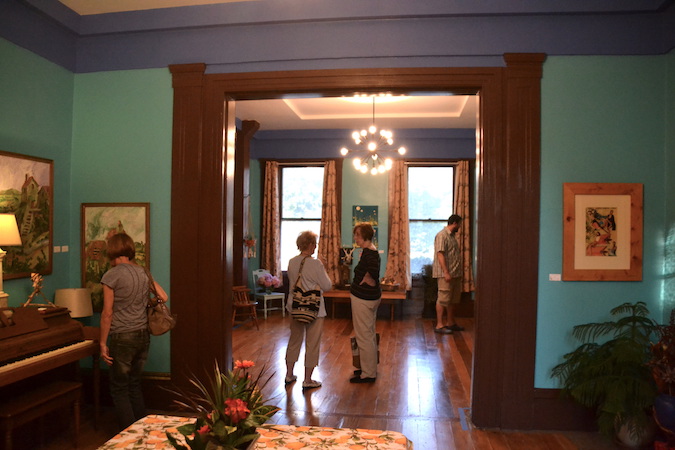 Photos by Tom Rivers
ALBION – Marti's on Main celebrated its grand opening on Friday evening at the former Cornell Cooperative Extension building at 20 South Main St. About 125 people attended the three-hour open house.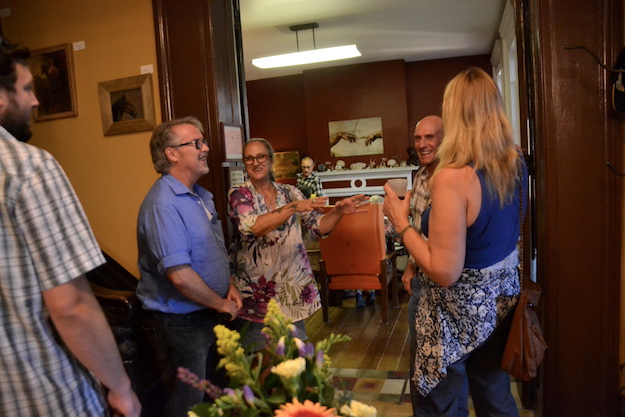 Kim Martillotta Muscarella, third from left, and her husband Neal Muscarella (second from right), greet guests David Purdy and Monica Beck at the grand opening.
The Muscarellas transformed the interior of the building into an art studio and gallery. The open house was by invitation only for local artists and known art appreciators. Mrs. Muscarella said other tours are available by appointment. She can be reached at (585) 589-6715 for more information.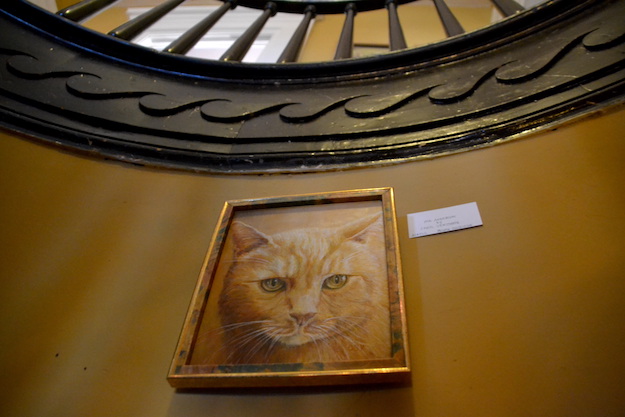 "Mr. Anderson" is a portrait of cat by Chris Versteeg that is displayed on the stairway. Muscarella has work from about a dozen artists on display.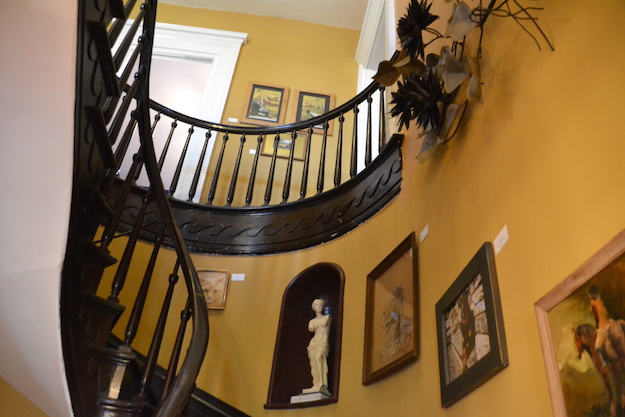 Muscarella likes to showcase artwork throughout the building, including the stairway leading to the top floor.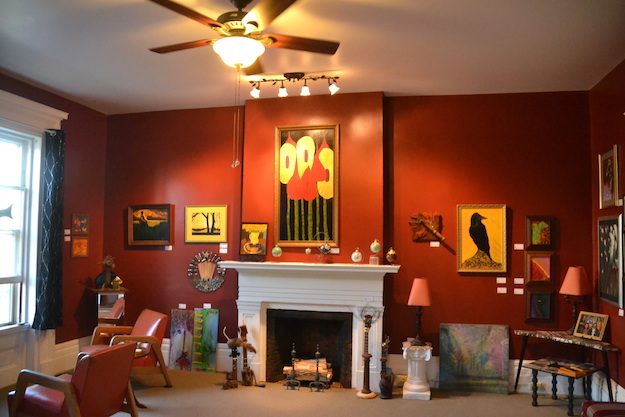 Kim Martillotta Muscarella has many of her own pieces on display, including the large acrylic painting of "Tall Flowers."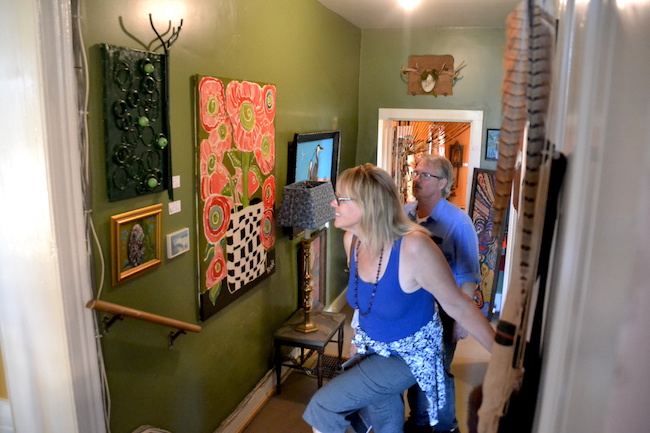 Monica Beck and David Purdy take a look at artwork — "Green Fun" and "Succulent Girl" — by Kim Martillotta Muscarella.
Purdy, a former professional interior and exterior painter for 22 years, said the Muscarellas did top-notch work in painting the rooms with such vibrant colors.
"They did a phenomenal job," Purdy said. "It's nearly flawless."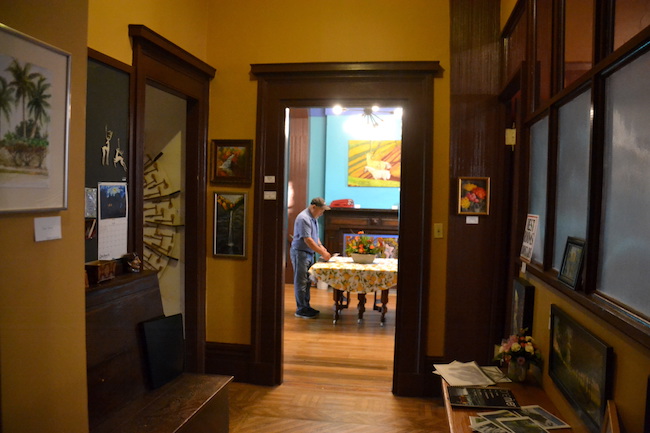 One of the guests checks out the art in a room inside the historic building.
Muscarella wanted to open the site to the public sooner, but waited due to concerns and restrictions with Covid-19.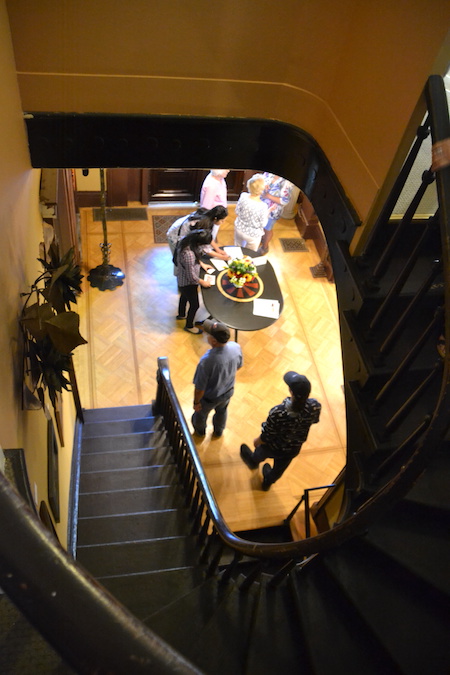 The former Cornell Cooperative Extension building was most recently used an outreach center for the Episcopal Church in Albion. The building was originally a house built in the 1830s.
Muscarella watched the site decline for many years, with little activity inside the doors of one of the prominent buildings in the historic Courthouse Square.
For about a decade she ran Marti's on Main, an art gallery and studio at her home at 229 South Main St. But that site, which was half of her house, was cramped to display art and accommodate groups of people.
On a whim in December 2019, she decided to look at the old Extension building, which had been for sale for years and was listed by her friend Jim Theodorakos of Morrison Realty. Muscarella and her husband, Neal, were given a tour of the building. (The Extension moved in 2007 to a new building at the 4-H fairgrounds in Knowlesville.)
The walls in the old building were all painted a very pale yellow. The floors covered in green and red carpet or asphalt tiles.
The couple also noted the high ceilings, big rooms and lots of wall space. They decided to take on the building, and give it a new life as an art studio and gallery.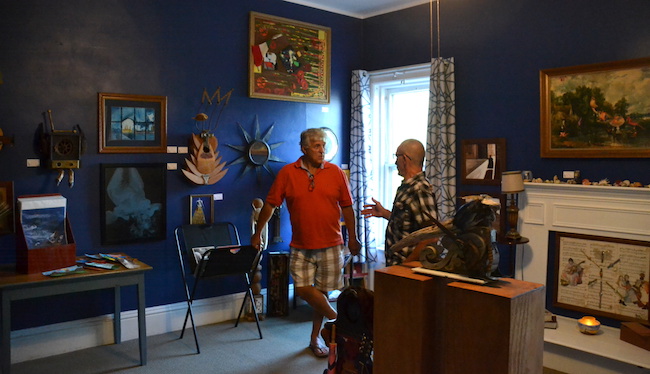 Joe Martillotta (who is Kim Martillotta Muscarella's brother) and Jim Babcock chat while in a room with many of Muscarella's unusual sculptures.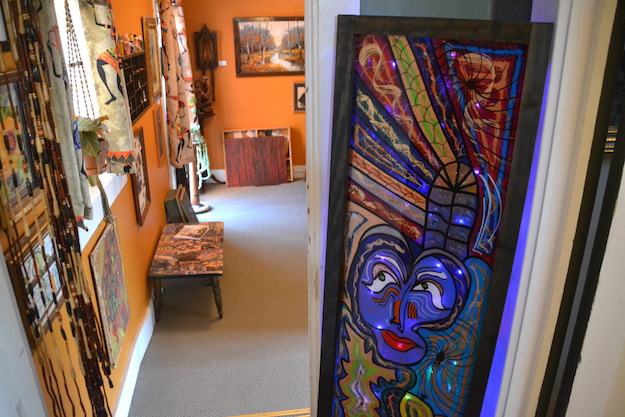 Muscarella has art from many local artists on display, including an abstract painting at right by Jim Fiegel. He uses a combination of acrylic, enamel, and water-based paint. He paints on Plexiglass and his paintings are curved. He also creates his own wooden frames and has LED lights behind the Plexiglass.
Muscarella prefers art that is outside the norm.