Marker unveiled for local soldier who died in Battle at Gettysburg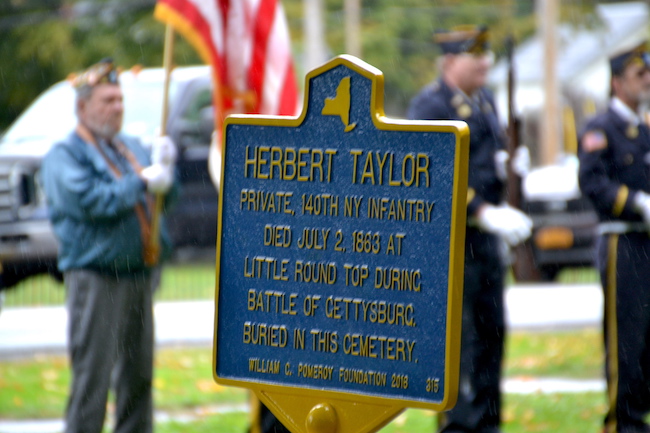 HOLLEY – A new historical marker for Herbert Charles Taylor, the only Orleans County resident believed to have been killed in the Battle at Gettysburg, was unveiled on Saturday at Hillside Cemetery.
The local Honor Guard is pictured in the background of this photo. Taylor is buried in the older section of Hillside Cemetery, a historic site in the Town of Clarendon, just south of the Village of Holley.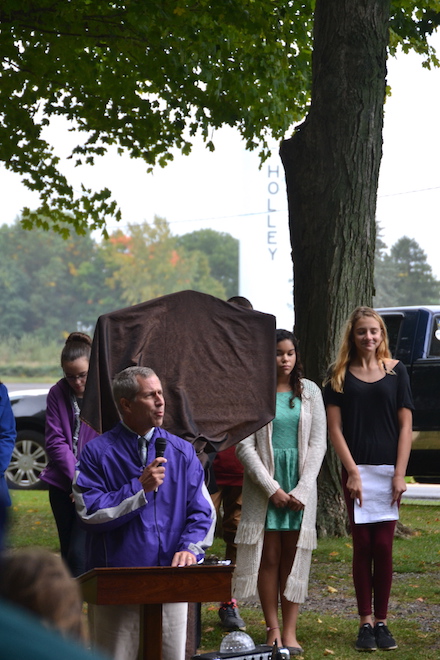 Tim Archer, the service learning teacher for Albion Central School, welcomes people to the marker's dedication. Archer and his students wanted to honor Taylor for his sacrifice in the battle that helped turned the tide for the Union. Gettysburg was the Civil War's deadliest battle with about 23,000 Union casualties and about 28,000 killed from the Confederacy.
Taylor,  a member of the 140th N.Y. Infantry, was with his regiment at Gettysburg on July 2, 1863 and repulsed the attack on Little Round Top.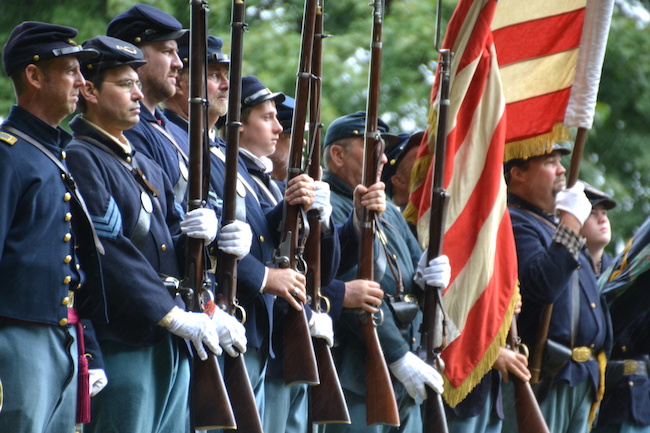 Civil War re-enactors from the NY 140th, the group where Taylor served, attended the dedication. The re-enactors are led by David George, left, of Churchill. He visited Archer's class recently to talk with students about the 140th.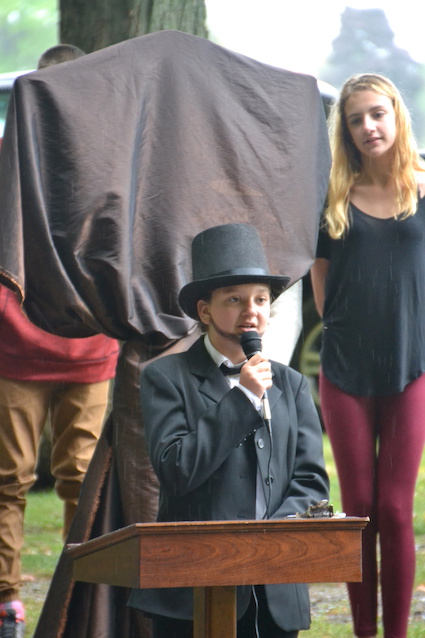 Emily Mergler, an eighth-grader, is dressed as President Abraham Lincoln. She recited a portion of the Gettysburg Address. Eighth-grader Leeanna Montanarella is in back. She also spoke at the ceremony.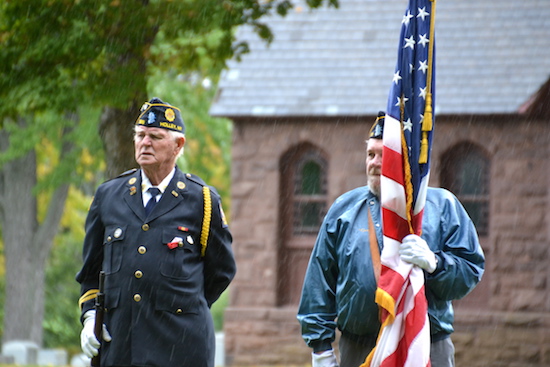 Gary Befus, a member of the American Legion in Albion, holds the flag during the ceremony in the rain. He is joined by Andy Eibl, member of the Legion in Holley. The chapel of the cemetery is in back.
Archer said the Civil War soldiers had to endure rain, cold and difficult living conditions.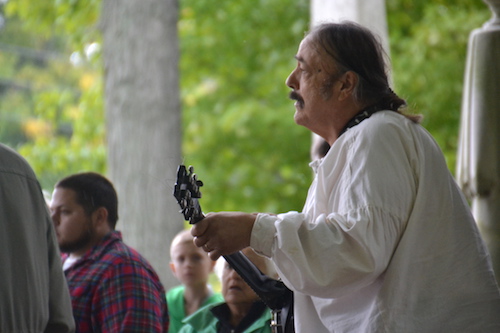 Al Capurso, the Gaines town historian, leads the crowd in singing, "The Battle Hymn of the Republic."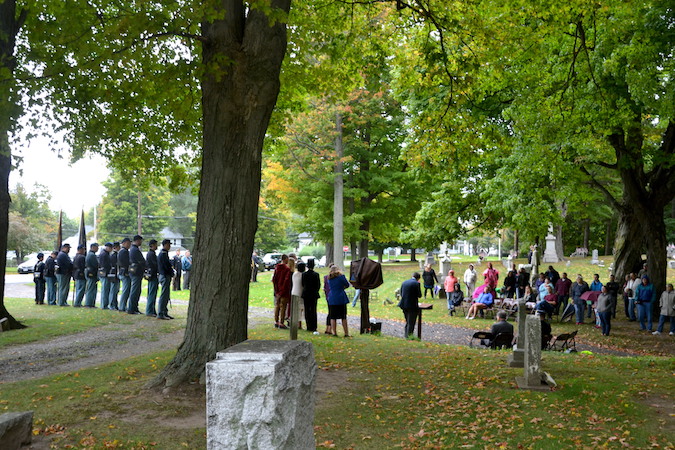 Matt Ballard, the county historian, speaks at the podium during the dedication program at Hillside.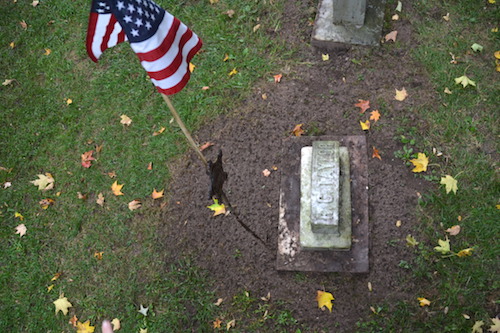 Taylor's grave includes an American flag and Civil War marker.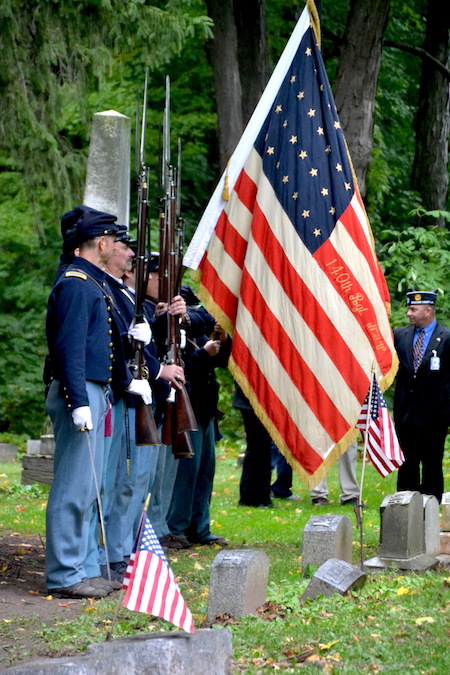 Re-enactors from the 140th stopped by Taylor's grave to pay their respects.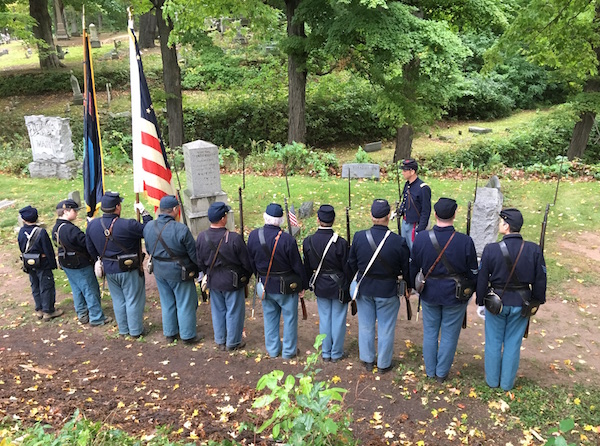 The re-enactors also paid their respects at the graves of Corporal Francis Balcom, 151st NY, who was killed at age 39 in the Battle of Mine Run at Locust Grove, Va. On Nov. 27, 1863
The re-enactors also stopped at the grave of A.J. Seeley, who died at age 36 at Andersonville Prison on Sept. 15, 1864. Andersonville was a Confederate prisoner-of-war camp during the final 12 months of the Civil War.