March is Music in Our Schools Month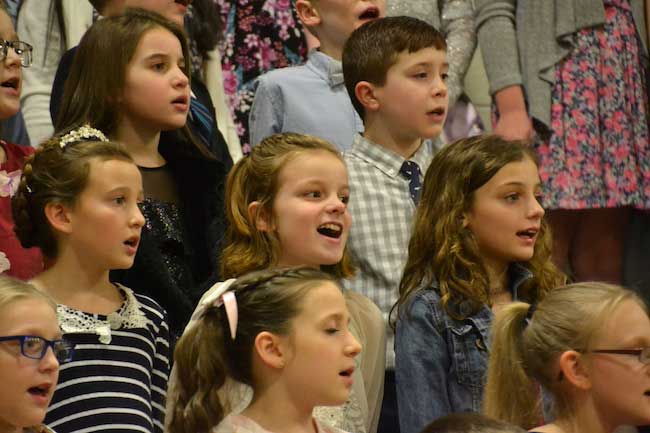 Photos by Tom Rivers
ALBION – Students in the Albion elementary chorus sing on Tuesday evening during a district-wide chorus concert at the Albion High School gym. About 1,000 people attended the concert, which was a celebration of Music in Our Schools Month.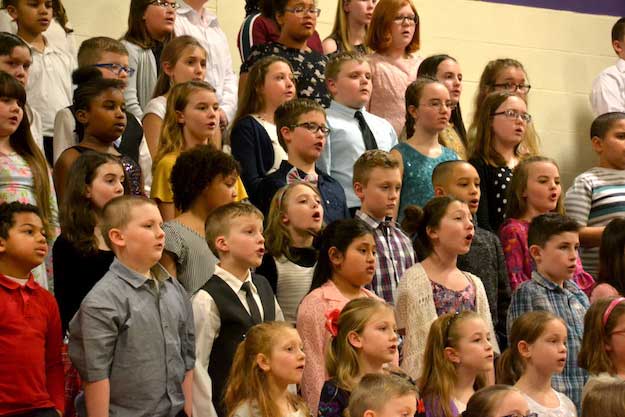 The third, fourth and fifth-graders sang "Springtime," "Cantamos," and "We Will."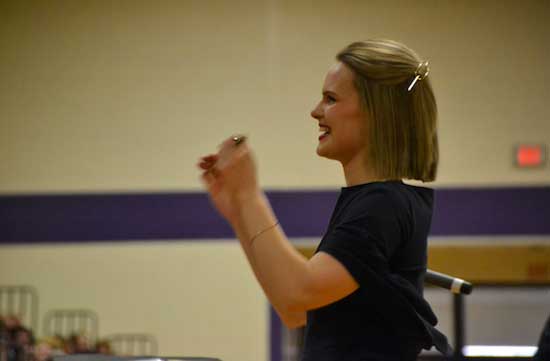 Anna Atwater directs the elementary students during the Albion concert.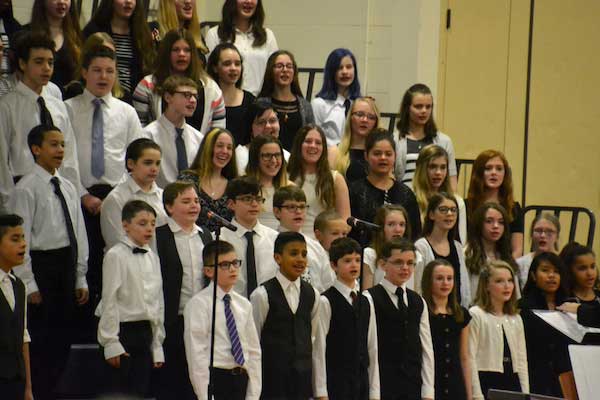 The middle school chorus also performed during the concert.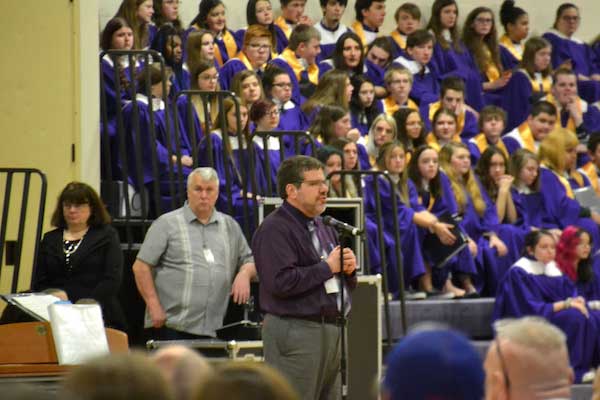 District Superintendent Michael Bonnewell welcomes the community to the concert. Carrie Kozody, middle school chorus director, and Kevin Smith, audiovisual equipment technician, are in back as well as the high school mixed chorus.
Some of the performances this month at local districts include:
• March 5 (7 p.m.) – Kendall All District Band and Chorus Concert at Kendal Jr./Sr. High School Auditorium
• March 7 (2 p.m.) –  All County Music Festival (Elementary School Band, Junior High Chorus, High School Band) at Kendall Central School
• March 13 (7 p.m.) and March 14 (2 p.m. and 7 p.m.) – Holley MS/HS, "High School Musical"
• March 19 (7 p.m.) – Holley district choral concert at HS Aud
• March 20 (7 p.m. ) and March 21 (noon and 7 p.m.) – Albion Middle School Musical, "Matilda"
• March 20 (7 p.m.) and March 21 (2 p.m. and 7 p.m.) – Kendall musical "Annie" at Jr./Sr. Aud
• March 27-29 – Lyndonville and Medina's musical production of "Mama Mia" with shows at Lyndonville Auditorium at 7 p.m. on Match 27, 7 p.m. on March 28 and 2 p.m. on March 29.
• March 31 (2 .m.) Holley Elementary School music assembly at HS Aud
• March 31 (7 p.m.) Holley District Band Concert at HS Aud
• March 31 (7 p.m.) – Lyndonville Music in our Schools Concert