Many show up very early for food at weekly distributions
'I get here early or else it could all be gone' – Mother of 5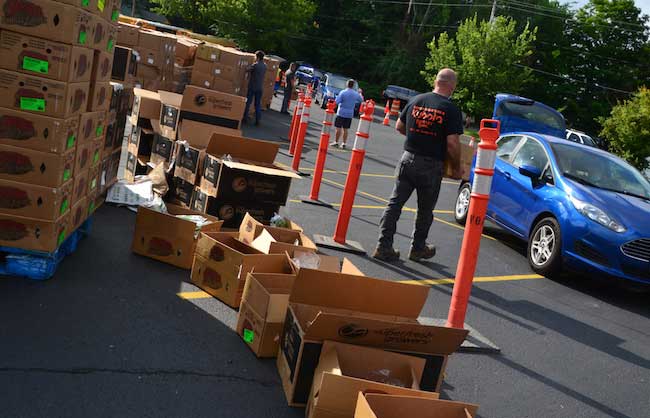 Photos by Tom Rivers
ALBION – Tim Hollenbaugh of Bentley Brothers helps with the food distribution this morning in Albion in the Main Street Store parking lot.
There was a long line of cars down Chamberlain Street, McKinstry Street, East Park Street and then spilling out on Main Street when the distribution started at 8:45 a.m.
One of three delivery trucks hadn't arrived yet but organizers decided to get the line moving due to the traffic backup. The trucks delivering meats and dairy arrived, but the group was waiting on the produce truck. Each vehicle gets three boxes.
Orleans Hub talked with three people who were near the front of the line. They showed up very early.
An Albion woman, 62, was first in line. She arrived at 5:05 a.m. after getting a hot chocolate at Tim Hortons. She works part-time and shares the food with her mother and son.
"It's hard to buy food today because the prices have gone up so much," she said.
The woman estimated the value of the three boxes at about $80. She comes to a distribution about every two weeks and tries to be there early.
"Sometimes I get here at 6:30 and the line is already way down the street," she said.
Today there was a new addition: a couple for a free gallon of milk.
"They keep adding things," the appreciative woman said.
A 33-year-old mother of five from Albion pulled up on Chamberlain Street at 6:15 this morning. She was the sixth vehicle in line.
The woman her family has dropped from two incomes to one during the Covid-19 pandemic. The food distributions have been "extremely helpful" in feeding her family.
The woman spends the time waiting in her car by "extreme couponing." She checks local stores online for coupons. Those savings have also helped her family during a budget crunch.
She notices more people are showing up early for the food distributions.
"The lines are getting longer and longer," she said. "I get here early or else it could all be gone."
The distributions on Fridays have food for about 300 vehicles. There are also distributions the second and fourth Wednesdays at the 4-H Fairgrounds with 1,200 boxes of produce, with one per vehicle.
A 70-year-old retired woman from Albion said the food distributions have been very helpful. They ensure she has quality food.
"My medical bills pile up and you have to decide between them and food," she said.
The woman said she shares some of the food with her son and neighbors.
She called herself an "early riser" and arrives for the food distributions at about 6:15 in the morning.
"It's worth it," she said.
Annette Finch, community service director at Community Action, said she worries about having enough volunteers  for the weekly efforts.
She welcomed members of local sports teams to volunteer and earn some community service hours.
Volunteers are still needed for all Fridays in August. For more information on volunteering, call Melissa Blanar at the Orleans County Office for the Aging at 589-3191.