Many locals participated in women's marches in DC, NY
'This march was the seed that needed to get planted'
Many local women on Saturday joined the Women's March in Washington. D.C. or "sister marches" closer by in Buffalo, Rochester or Seneca Falls. An estimated 3.7 million participants joined in about 500 marches in the country.
Heather Rutherford, 41, of Medina took a bus from Buffalo to Seneca Falls. She taught school in North Carolina, and worked with a student population that was largely Latino. She knows many of these students and their families are uneasy with a Trump Administration.
Donald Trump in his campaign pushed to build a wall on the Mexican border and talked of deporting undocumented immigrants.
"I fear for them and the problems they may have the next four years," Rutherford said about her former students and their families.
She also worries about minorities, Muslims and gay couples who are now legal marriages.
"I know there are a lot of people afraid right now," she said.
Rutherford said the march lifted her spirits and has inspired her to get more involved politically.
"I didn't go as anti-Trump," she said. "He is the President. We just want our voices to be heard."
Many of the marchers held signs proclaiming support for equal pay and equal rights for women, "science," marriage equality, "kindness" and the environment.
Rutherford said she is concerned for the planet, especially if Trump rolls back environmental protections and tries to get out of climate change agreements with other countries.
"I'm worried about the future as far as the environment goes," she said. "The EPA is not focusing on what it should be, protecting our water and animals."
Trump and his press secretary didn't comment on the marches on Saturday, but the President tweeted this message this morning: "Watched protests yesterday but was under the impression that we just had an election! Why didn't these people vote? Celebs hurt cause badly."
Trump followed that with this message about an hour later:
"Peaceful protests are a hallmark of our democracy. Even if I don't always agree, I recognize the rights of people to express their views."
'We need to hold our elected officials accountable'
Andrea Newman attended the Women's March in Buffalo, joining about 3,000 other people in Niagara Square.
Newman, 37, said she "followed Bernie Sanders closely," during the Presidential campaign.
She said the big turnouts all over the country should send a message to Trump to support women's issues, work towards a sustainable planet and ensure equality for all Americans.
"I was very turned off by Trump's agenda, especially with the environment and his position on public education is worrisome," she said.
Newman said the march in Buffalo was peaceful, and a time for many groups who feel marginalized to come together.
"I felt a need and a calling," she said about the march. "It doesn't stop here. We need to hold our elected officials accountable."
Newman said she was discouraged when Trump was officially inaugurated on Friday.
But the feeling on Saturday, "was just the opposite."
'We're not extremists or crazy'
Nikki Calhoun, 34, of Le Roy joined about 1,500 other marchers in Rochester at Washington Square Park.
Calhoun is a member of the GLOW Progressive Group on Facebook, reaching out to people in the four local rural counties of Genesee, Livingston, Orleans and Wyoming.
She said the rural counties are dominated by Republicans, causing many Democrats to feel left out of the local political process.
The march on Saturday gave a chance for progressives to connect and build a network.
"In rural counties, Democrats are in hiding," she said. "Knowing there are like-minded people made a difference for a lot of people."
She said the marchers wanted to send a message to not pull back on hard-fought equality gains.
"It was nice in Western New York where we're not that big to see all of those people come out," Calhoun said. "We're not extremists or crazy."
She carried a sign – "Resist" – for the march.
"It was such a wonderfully diverse group of people," she said. "It was really amazing."
Former Congressional candidate joins 500,000 in D.C.
Diana Kastenbaum of Batavia joined her daughter Millicent Kastenbaum, an intern for U.S. Sen. Chuck Schumer, at the march in D.C. The official estimate for D.C. was 500,000 at the march. (Los Angeles drew the biggest crowd on Saturday with 750,000.)
"It felt like there must have been a million people there," Kastenbaum said about the march in the nation's capital. "The streets were so clogged."
It was an uplifting experience, seeing so many people coming together.
"It was absolutely massive," Kastenbaum said. "It was so empowering and wonderful. There were men with their sons. There were older women who had trouble walking. It was such a diverse group of people."
Kastenbaum ran for Congress in the 27th Congressional District as a Democrat last year versus Chris Collins, the incumbent Republican. Collins cruised to victory in a heavily Republican district.
But Kastenbaum isn't giving up on trying to advocate for women's healthcare and help for the middle class. She hasn't decided about running for Congress again. But she urges women to look at running for elected offices, including the myriad of local positions.
She worries about cuts or dismantled healthcare programs for women. Her sign in the march said, "NY-27 Stand With Planned Parenthood."
"We will fight him if he tries to take away things that have been part of our institution for years," she said.
She said the women's marches have mobilized millions, including many who weren't politically involved.
"This march was the seed that needed to get planted," Kastenbaum said. "I think we have put him on notice that we will not go away quietly."
---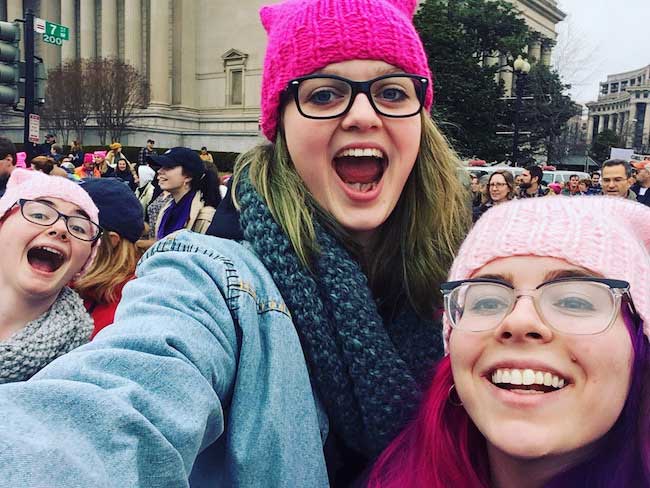 Carol Pritchard of Albion, center, sent in this photo of herself at the march. She is with Teresa Wheeler, left, and Allison McCloat.
"It was such an honor to be a part of everything this past weekend," Pritchard said in an email.