Many groups perform in Albion Christmas concert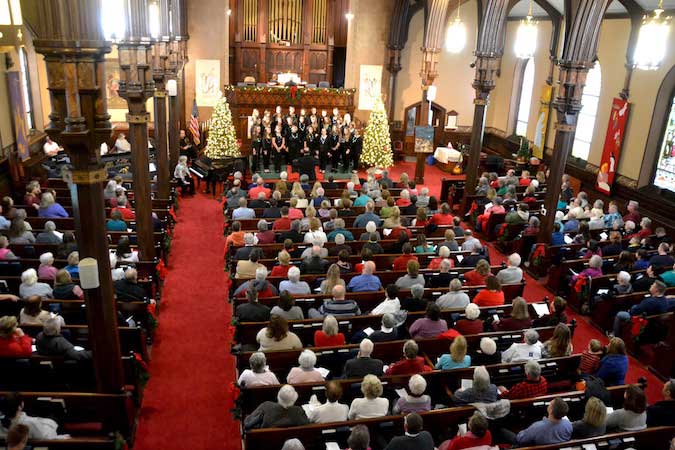 Photos by Tom Rivers
ALBION – The Women's Select Choir, led by High School Chorus Director Gary Simboli, sings "We Wish You the Merriest" during today's community Christmas concert at the First Presbyterian Church.
There were several groups and musicians that performed including the The Joyful Good Shepherd Ringers (Bell Choir from the United Methodist Church, directed by Marie Follett); local trio Crandall, Wood & Main (Dean Theodorakos, Joel Allen and Doug Syck); guitarist Bill Pileggi; vocalist Alec Sherman; and Dale Smalley at the organ and piano.
In addition, the high school Trombone Choir, Brass Ensemble, Sax Ensemble, Clarinet Choir, Flute Choir and Men's Select Choir all performed Christmas music.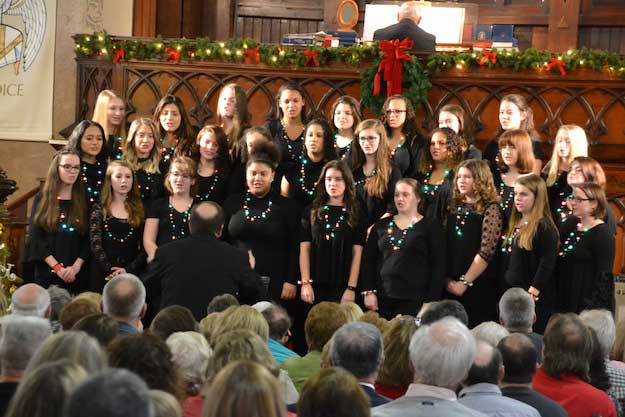 The Women's Select Choir sings its song as part of concert, where proceeds benefit the Albion High School Alumni Foundation for scholarships to local graduates.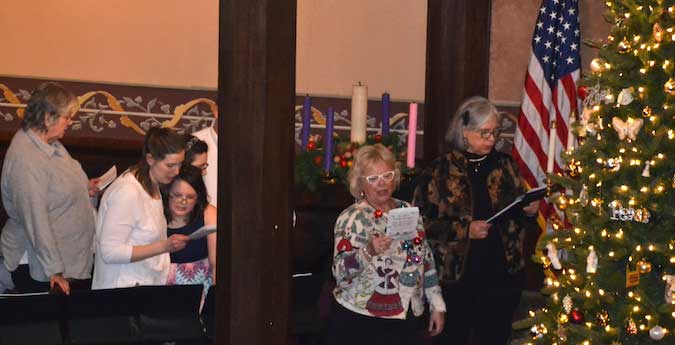 The concert concluded with an audience sing-along of "It's Beginning To Look A Lot Like Christmas." Kim Remley and Doreen Wilson, right, both presented traditional readings, with Remley reading "Christmas Past" by Carice Williams, "Christmas Pie" by George Wither and "Christmas is a Holiday for Friends" by Nicholas Gordon. Wilson read "My Christmas Wish" by Cynthia Holt Cummings and "Merry Christmas from Heaven" by John Mooney. Jan-Mikael Erakare also read "The Boy Who Laughed at Santa Claus" by Ogden Nash.