Many farms contributed to FFA food drive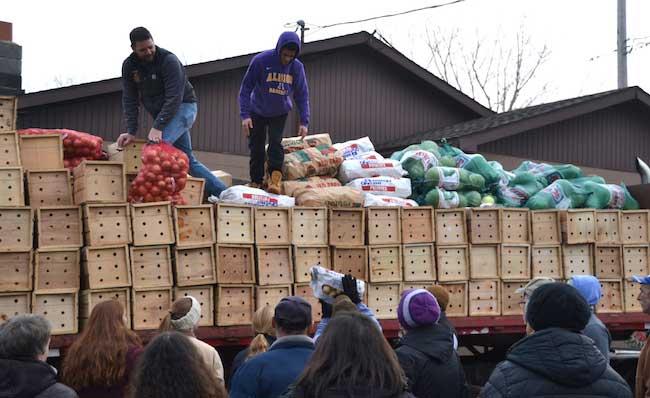 Photos by Tom Rivers
ALBION – The Albion FFA unloads a flatbed trailer this morning after 35,000 pounds of produce was delivered to Community Action of Orleans & Genesee.
Adam Krenning, left, is the FFA advisor. He is joined on top of the trailer by his nephew, Ryan Krenning, an FFA member.
About 20 farms donated to the annual FFA food drive. FFA members called them about six weeks ago. Many of those farms have been contributors to annual food drive for several years now.
The following donated to the effort:
Triple G Farms – Potatoes
Root Brothers – Cabbage
Kludt Brothers – Squash
Nesbitt Fruit Farm – Apples
Orchard Dale Fruit Farm – Apples
Kreher's – Eggs
Martin Farms – Squash
Jeff Partyka – Apples
CY Farms – Onions
Starowitz Farms – Cabbage
Torrey Farms – Onions and Potatoes
Panek Family Farm – Green Beans and Corn
Robert Colby/ Colby Farms – Potatoes and Cabbage
Bittner Singer Orchards – Apples
Orleans County Farm Bureau – Hams
Mortellaro and Sons – Onions
Costanzo's Bakery/ Dale Root – Bread
Adam Kirby – Apples
Navarra's Greenhouses – Crates
Call Farms – Potatoes
Poverty Hill Farms and Upstate Niagara – Butter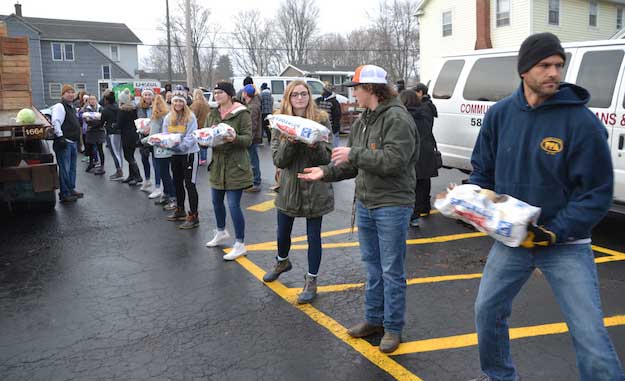 Middle School Principal Brad Pritchard, right, joins the FFA students in a line that filled a shed with potatoes and other produce.
Some of the food today was picked up by six food pantries in the county, and four soup kitchens. The rest will be stored and given to people in the coming weeks and months.
Community Action will use the food for more than 450 families, including 250 in central Orleans, 186 in the Holley area and 20 in Lyndonville.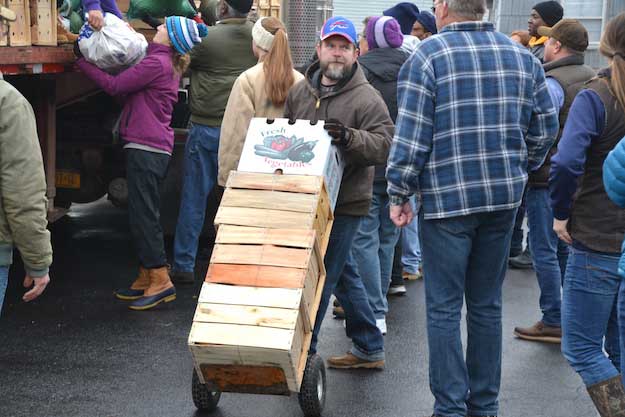 Russ Peters, pastor of Alabama Full Gospel Fellowship in Shelby, said the food will help the church prepare about 55 to 60 food baskets for families in the community.
"This is a huge help," he said.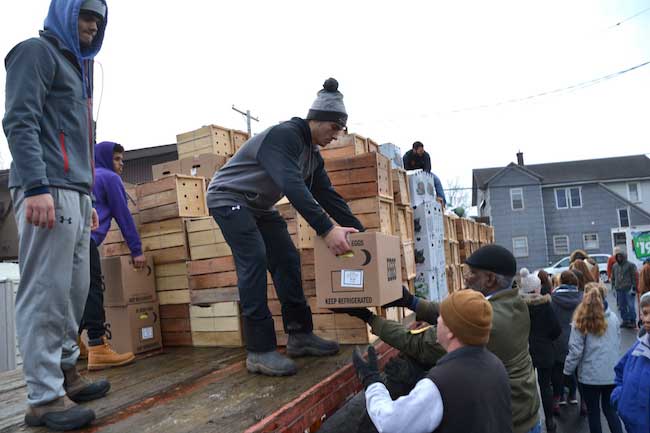 Michael DiCureia hands off a box of eggs.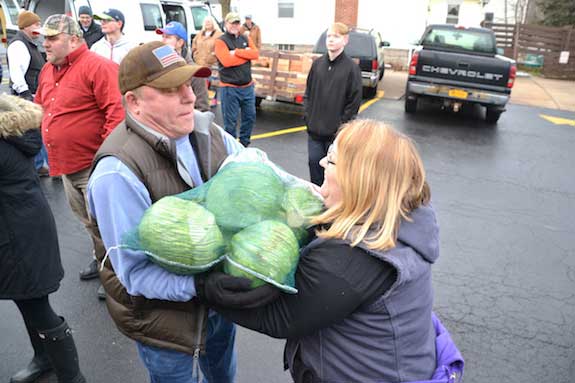 State Assemblyman Steve Hawley was back again helping to unload the tractor trailer. He hands a bag of cabbage to Amanda Krenning-Muoio, a senior field advisor for New York Farm Bureau and Adam Krenning's sister.