Many bands performing today to create scholarship in memory of Bill Carpenter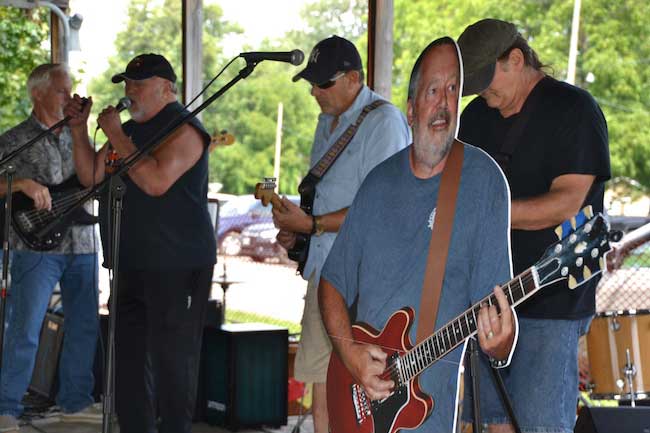 ALBION – A cutout of Bill Carpenter playing his guitar is near the stage at the Elks Club as part of a 10-hour jam session today in his memory. Jonesie and the Cruisers (with help from Who Dats members John Borello and Ed Hilfiker) are performing. Carpenter at one time was a member of Jonesie.
Carpenter's wife took the photo of Carpenter playing in their garage a little over a year ago.
Carpenter was 60 when he was killed in a motorcycle accident on Aug. 27, 2017. He hit a deer at about 6:30 in the morning on Route 279 while on his way to work at the Albion Correctional Facility.
He worked 26 years for Kodak, then four years for Lyndonville Central School as a custodian before becoming as corrections officer. He did that latter job for almost 10 years.
He was a member of the Albion Elks Club and the Elks Riders, a group of motorcyclists.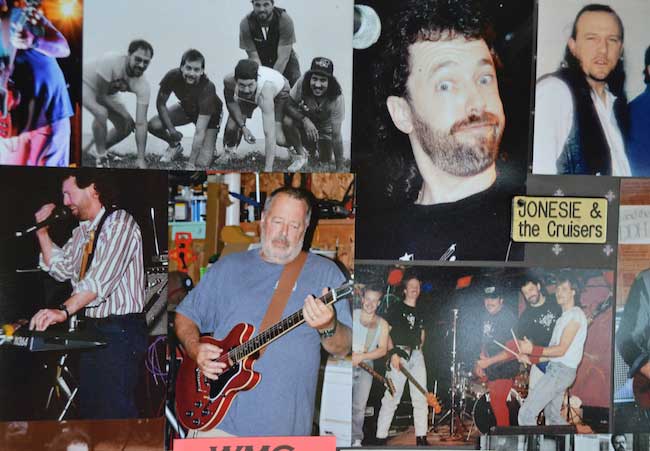 Carpenter loved music and performed in many local bands. These photos show him and some of the bands over several decades.
He also had a DJ business and loved to get people dancing a wedding receptions and other events.
"He was always entertaining," said his wife, Elizabeth. "He loved to make people smile."
Many local bands are playing in the benefit today to raise funds for  scholarship in Carpenter's name. It will go to a student from Orleans County majoring in music.
The Who Dats were the first to perform today followed by Jonesie and the Cruisers, "A" Blues Band, 42 Nickels, Triple Play and band with Trellis Cooper. (Cooper worked with Carpenter and was one of the main organizers of the event.)
Carpenter was a lifelong Lyndonville resident. When his job became uncertain at Kodak, he started working as a custodian at Lyndonville Central School. It was at that job he got to know his wife Elizabeth, who would walk the hallways after school with friends.
The couple had been married for 12 years. Mr. Carpenter became a corrections officer at age 50, trying to boost his income. He carried a small Bible in his shirt pocket on his shifts.
Some of the inmates sent him Father's Day cards because they appreciated his kindness and compassion, his wife said.
After his death, some of the inmates at the Albion Correctional Facility, a prison for women, sent Mrs. Carpenter a card, saying her husband treated the inmates with respect and would be missed.
Numerous co-workers also attended his funeral, and they said Carpenter was a father figure for many of the young corrections officers. He started his corrections career at Fishkill outside New York City for 3 ½ years and then a year at Five Points, a maximum security prison at Romulus. He would work four straight 16-hour days and then would get eight days off.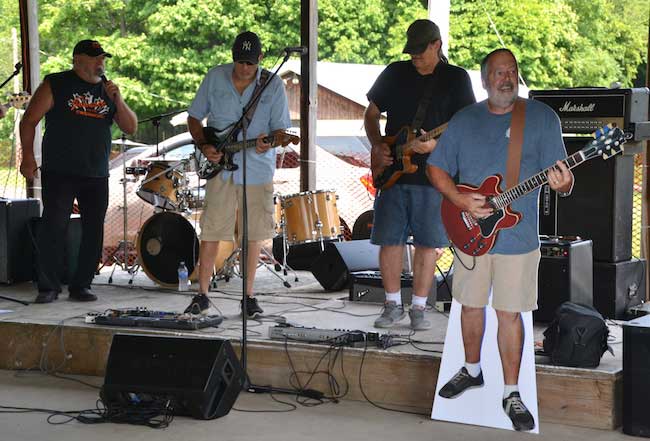 Carpenter was well regarded by local musicians, and they all volunteered to play today at the scholarship benefit.
Lonnie Froman, lead singer for The Who Dats, was recruited by Carpenter to sing in the band Flashback about 25 years ago. Carpenter's friend heard Froman sing at karaoke and Carpenter reached out to the singer.
"He was just a likable guy," Froman said. "It was a plus that he knew how to play the guitar."
Carpenter was a mainstay in the local music scene. Froman looked at the cutout several times and knew Carpenter would have loved to have been playing with the bands today.
"He would have been up there in a heartbeat," Froman said. "He played in so many bands over the years."
The local bands share a kinship, Froman said.
"Everybody knows everybody," he said about the members of the different bands. "It's like a fraternity."