Mamma Mia! comes to stage in production by Lake Plains Players
Local community theater group doing first full-scale musical since Covid hit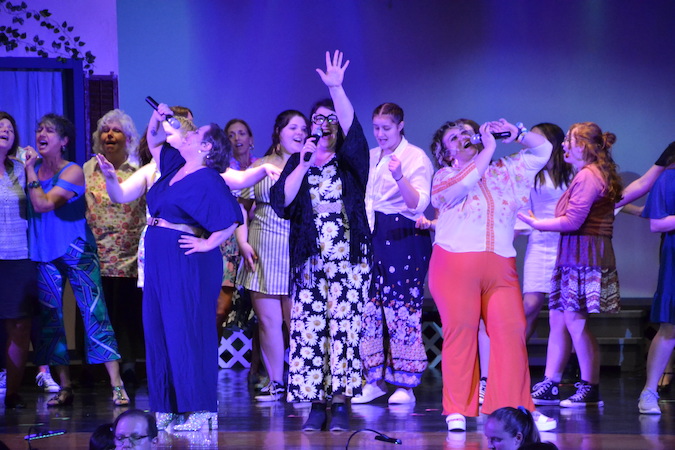 Photos by Tom Rivers
MIDDLEPORT – Three long-time close friends – in front from left: Rosie (Eden Villanueva), Donna (Jennifer Neroni-Trupo) and Tanya (Sarah Geer) – perform "Super Trouper" during rehearsal on Monday evening for Mamma Mia!
The Lake Plains Players will be performing the musical 7:30 p.m. on Thursday and Saturday, and 2 p.m. on Sunday. The shows are at the Roy-Hart High School Auditorium. Tickets are $12 for adults and $10 for students and senior citizens. Click here for more information on tickets.
Heather Rutherford is making her director debut for the Players with this show. She also is the choreographer.
She said the show is nearly all music in the '70s style.
"Almost everything is upbeat," Rutherford said. "Hopefully everyone leaves happy."
The late Lance Anderson, the former president and director for the Players, purchased the rights for Mamma Mia! in 2019. The group was planning to do the musical in the fall 2020 but there wasn't a show that time because of Covid.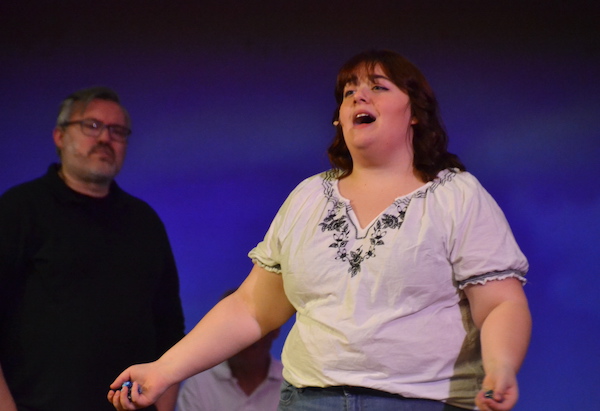 Zoe Cusson of Albion stars as Sophie in Mamma Mia! Cusson, 18, graduated from Albion last June and was in many of Albion's school musicals.
As Sophie, she is about to get married. She looks through her mother's old diaries and finds three men could be her father. She invites all of them to her wedding, including Sam Carmichael, played by Joe Kusmierczak in back left.
Cusson, a student at Genesee Community College, is grateful to have the community theater available locally.
"It's been a fun experience," she said about working with the cast and production team. "It's a whole mix of different ages. They are all super supportive."
There are 56 people in the cast, with most from Orleans and Niagara counties, and some others from Monroe, Erie and Genesee counties. The group has been rehearsing since mid-August.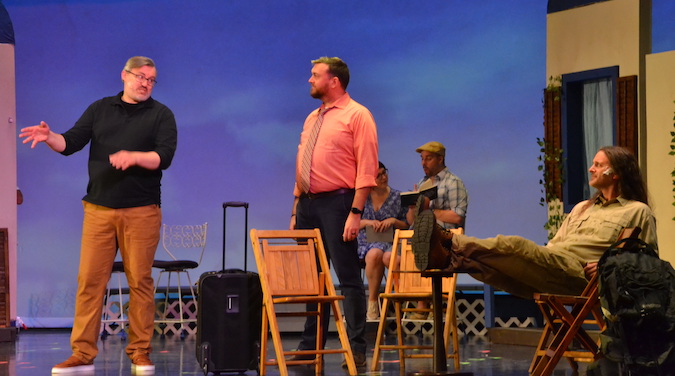 The three men who might be Sophie's father arrive for the wedding on the fictional Greek island of Kalokairi. They are at the taverna run by Sophie's mother, Donna.
From left include Sam Carmichael (played by Joe Kusmierczak), Harry Bright (Brian Wilson) and Bill Austin (Matthew Barry).
Sam Carmichael is a wealthy architect while Harry Bright is a London banker and Bill Austin is a well-known travel writer.
Sophie thinks she knows who is her father, but ends up uncertain on who he really is.
Kusmierczak, a Medina native, now lives in Rochester and teaches science in Le Roy and co-directs the school musicals there. He makes the long drive to Middleport for rehearsals. He has been doing it for about 12 years to be in the Lake Plains Players shows.
"There is something about this group that makes it all worth it," he said. "It's for the love of theater and for this group of people that I love so much."
Kusmierczak, 45, said this performance of Mamma Mia! is done partly in memory of Lance Anderson, who was a great friend to many of the cast members and production team, as well as a mentor.
Kusmierczak, as he gets older, joked that he is transitioning from the roles of younger leading man "to playing the dad."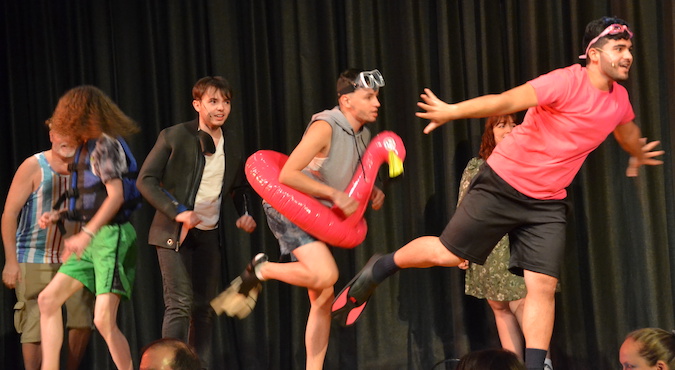 Sky, left, is played by Ethan Bowie of Lyndonville. Sky is engaged to Sophie. Here his friends are taking him to his bachelor's party. Evan Steier of Albion, second from left, is Eddie and Qasim Huzair of Lyndonville, is Pepper. The trio were part of the Lake Plains summer theater camp for children for several shows when they were in high school.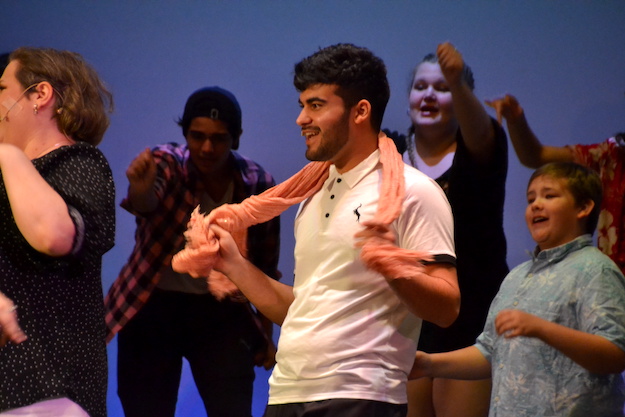 Qasim Huzair, 18, of Lyndonville is a theater major at Genesee Community College. He was in the Lyndonville-Medina production of Mamma Mia! in the spring on 2020 when the show was stopped two weeks before opening night due to Covid-19.
"It feels like redemption," Huzair said about getting a second chance to do Mamma Mia! He prefers his role in this show, the fun-loving Pepper instead of Sam, who Sophie believes could be her father.
Huzair said the community is fortunate to have the Lake Plains Players, which have been performing theater for about 40 years.
"I like the opportunity that it gives people," Huzair said. "It's a good community of people, kind of like a family."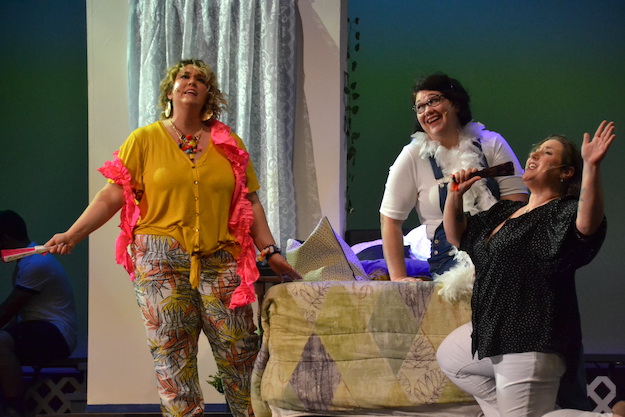 Jennifer Trupo-Neroni plays Donna, center, who explains to her two close friends the awkward situation that three men who could be Sophie's father are all at her daughter's wedding.
Tanya is played by Sarah Geer and Rosie is Eden Villanueva. They are singing "Chiquitita" to try to cheer Donna up.
Trupo-Neroni is the Lyndonville school music director and a music teacher. She directed the Mamma Mia! when it was cancelled in the spring 2020 when schools shut down from Covid. Several of her students from that show are in the Lake Plains Players production this time.
"It is kind of bittersweet," she said about getting another try at the musical.
She has been part of the Lake Plains Players since she was in high school in the mid-1990s.
"I really love performing and love performing with this group of people," she said.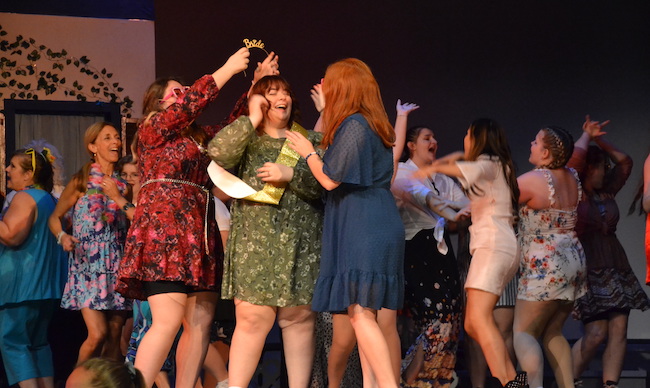 Sophie's best friends celebrate with her at her bachelorette party. Myles Miller, left, plays the role of Lisa and Madison Pratt, right, is Ali.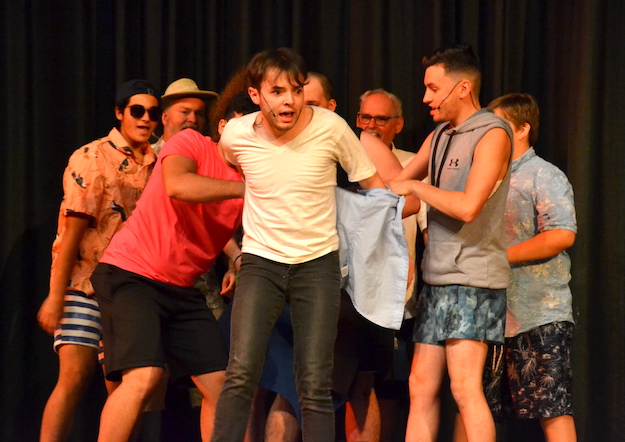 Sky (Ethan Bowie) is ambushed by his friends and they take him to his bachelor party.