Mama Duck draws thousands to Buffalo waterfront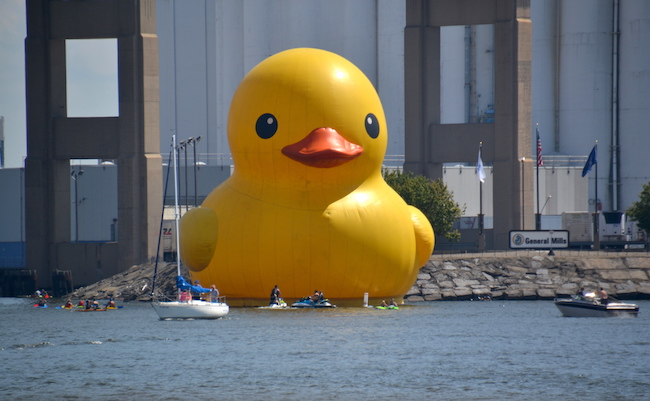 BUFFALO – A giant rubber duck visited Buffalo from Friday until later tonight. The 61-foot-high duck proved a phenomenon, drawing huge crowds to Buffalo's waterfront.
I went to see "Mama Duck" this afternoon with two of my kids. Numerous selfies were taken by people of all ages.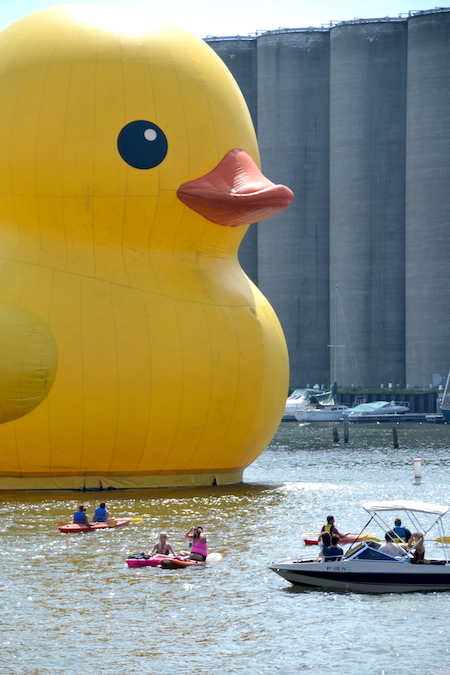 Mama Duck visited Buffalo for the three-day Buffalo Maritime Festival. The duck, which visited Syracuse earlier this year, is now headed to Erie, Pa.
Maybe Mama Duck could come to Medina and the Canal Basin as part of the 200th anniversary of the Erie Canal construction.
Next year is the beginning of an eight-year bicentennial for the canal. Construction of the 363-mile canal started in 1817 and was complete in 1825.
New York State and the canal communities should be thinking of ways to celebrate the birth of the canal. The historic waterway brought prosperity and people to these canal towns, which retain much of the architectural splendor from the canal boom days.
Mama Duck would be welcome to join the celebration.
There is a lot that we could do as a community, without waiting for the state's commemoration plans.
We might consider a public art project with fiberglass mules and oxen, animals that were instrumental in building the canal and moving freight.
Every year from 2017 to 2025 we could introduce one or two mules or oxen that would be placed in the canal towns to celebrate our canal history.
I like the idea of a bronze memorial to the quarrymen who worked in the Medina sandstone quarries. That was a massive industry in Orleans County for about a century, employing thousands. It brought immigrants from Italy, Poland, Britain and Ireland, and many of their descendants are residents and community leaders today.
Buffalo – with its rebirth on the waterfront with the original canal terminus – has proven the public enjoys history with some whimsy.