Major Leaguer has advice for kids to become better players and people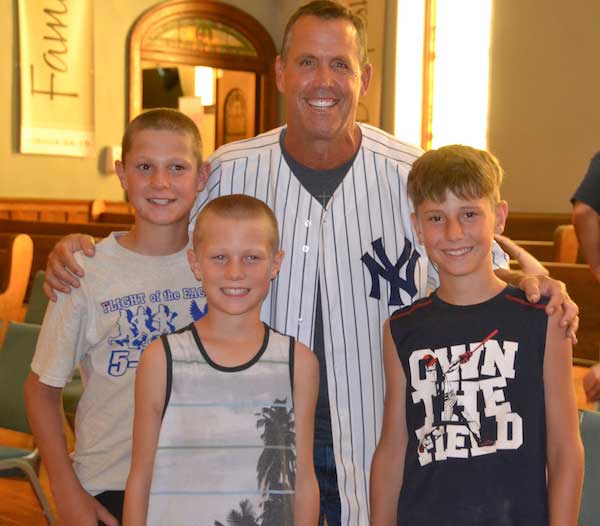 Photos by Tom Rivers
ALBION – Chris Hammond, a retired Major League baseball player, poses for a photo with three brothers from Kendall: Louie, Sam and Jonny Conte.
They met with Hammond on Wednesday evening at North Point Chapel in Albion. The brothers are participating in a week-long baseball camp put on by North Point and NextLVL Sports Institute.
About 50 kids are practicing baseball and softball drills at the Barre Town Park with instructors from NextLVL Sports Institute in Georgia.
Hammond pitched 14 seasons in the big leagues with the Reds, Marlins, Red Sox, Braves, Yankees, A's and Padres. He had his best season in 2002 with a 0.95 ERA with the Braves. He is only the third pitcher in the history of the Major Leagues to maintain an ERA under 1.00 for a full season.
Hammond shared his concerns about playing baseball year-round and the demands and costs of travel baseball. He only played baseball three months a year when he was a kid.
He thinks parents put too much pressure on some kids to be on a high-performance track, rather than playing for fun with friends.
Hammond also urged people to be "Christ followers" and not just "church-goers." He said families and communities need more people who are following Jesus Christ.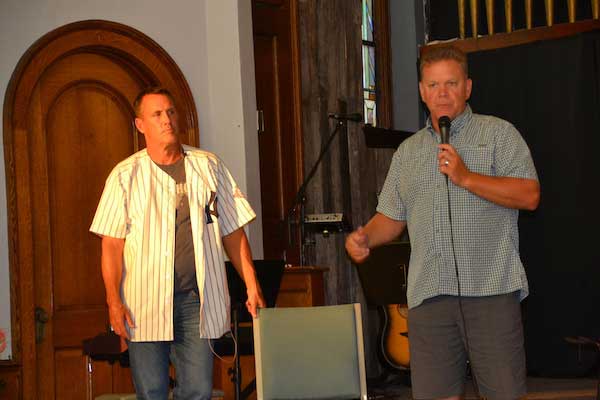 Mike Outten, pastor of North Point Chapel, thanked Hammond and about 10 people from NextLVL Sports Institute for spending time in Albion. Outten said the church is committed to reaching youth in the community.
Hammond will lead drills at the sports camp at the Barre Town Park today and Friday. The players will do a demonstration on Friday evening at the park, showcasing what they learned this week.