Maison Albion donates $1K to Hospital Foundation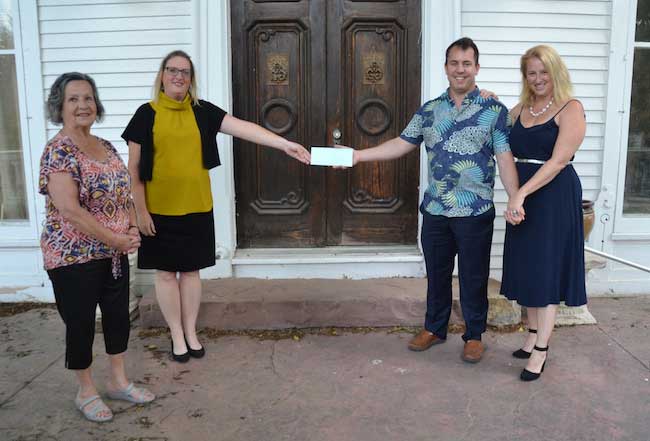 Photo by Tom Rivers
ALBION – Cole and Kerri Glover, right, donated $1,000 to the Orleans Community Health Foundation on Wednesday. They are social distancing while presenting a check to Jeanne Crane (left) who is president of Foundation and Heather Smith, who is the executive director.
The Glovers are the new owners of the former Pillars on West Countyhouse Road in Albion. They are turning the property into Maison Albion, which will be decorated in a French theme and will host weddings and other events.
They had an estate sale at the property on Saturday. One large elephant figure, which was a prop in a film, was auctioned off with proceeds going to the Hospital Foundation.
The Whitehall Mansion in Brockport bought the elephant for $700. The Glovers added $300 to make the donation $1,000.
The $1,000 will go towards the "Say Boo to the Flu" program run by Jessica Capurso, out of the Community Partners department at Orleans Community Health.  Community Partners collaborates with Albion Rotary and Leon's Gift in Memory of Leon Sidari to educate the community on the importance of flu vaccinations for youth. This year they are focused on expanding the program and these funds will greatly help facilitate any additional needs they will have for another successful year.
The Glovers said they plan to make Maison Albion available for free for 10 community fundraisers each year. Mrs. Glover urged people to reach out to her at bonjour@maisonalbion.com for more information.