Main Street will close in Albion for car show today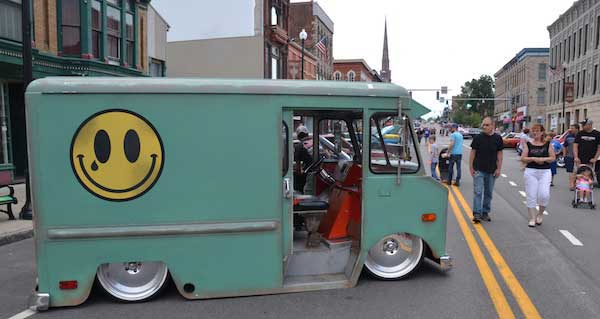 Photo by Tom Rivers
ALBION – A 1972 Chevy van from Rochester was popular at the car show on July 22, 2017 when a section of Main Street was closed for the cruise in.
The show returns today from 5 to 8 p.m. with Main Street closed from State Street to Caroline Street, and Bank Street from Ingersoll to Liberty Street.
Organizers welcome classic and late-model cars, trucks and motorcycles to the historic downtown for the show. The event is free to participants and to the public who want to look at the vehicles.
"Seeing people walk down the middle of Main Street is cool," said Adam Johnson, one of the organizers of the event. "It slows the pace down."
There will be a 50/50 raffle with proceeds going to The Warrior House in Shelby, which provides a hunting retreat to veterans. Donations will also be accepted today for the organization.
DJ Moonshine Productions will be providing music for the car show. The street is expect to close down around 3 p.m., just before the vehicles start to arrive.
The Orleans ABATE and Limited Resources Car Club are helping with traffic control for the event.
Last year was the first time the street was closed for a car show in several years. There were about 100 vehicles in the show last year. It was sprinkling in early after last year for the car show. Today is forecast to be sunny with a high of 81.
"We definitely caught a huge break with the weather," Johnson said. "It's going to be perfect."