Main Street bridge in Albion closes Monday, not expected to reopen for 18 months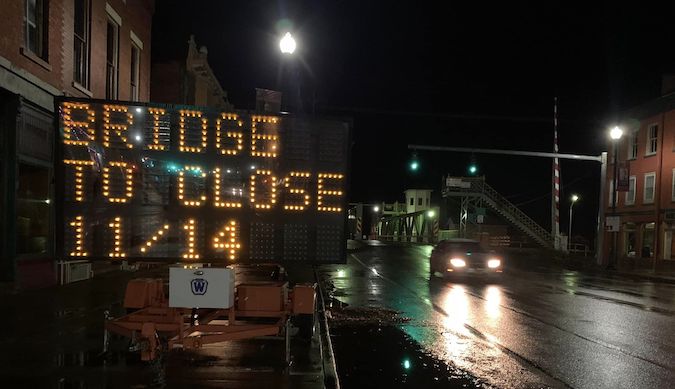 Photo by Tom Rivers
ALBION – Traffic moves along Main Street in Albion near the lift bridge this evening.
The bridge will be closed beginning on Monday for a major rehab that is expected to take 18 months to complete.
The state Department of Transportation will also be closing the Main Street lift bridge in Brockport in the spring for a similar rehab. The two projects will cost $28.3 combined.
Crane-Hogan Structural Systems in Spencerport is the general contractor on the two bridges. Crane-Hogan did the rehab work on seven canal bridges in Orleans County from 2018 to 2021. That was a $10.8 million project for the work on the single-lane truss bridges.
The Main Street lift bridge in Albion was built in 1914. Some of the upcoming work includes:
Replacing bridge deck and portions of the truss system with high-strength, galvanized steel.
Modernizing mechanical and electrical components within the bridge's lifting system.
Rehabilitating the bridge tower.
Installing new bridge rails.
Repainting the bridge, maintaining its current shade of green.
During construction, the bridge will be dismantled with individual trusses lifted and placed in the lot adjacent to the Canal, where the rehabilitation work will occur. When work is complete, it will be moved back into place over the Canal, according to a notice from the DOT.
A signed detour will be in place utilizing State Routes 31, 387 (Fancher Road), and 104 (Ridge Road). The Erie Canal Trailway will remain open for the duration of the project.