Madisonation golf tourney raises $9K for Michael Napoleone Memorial Foundation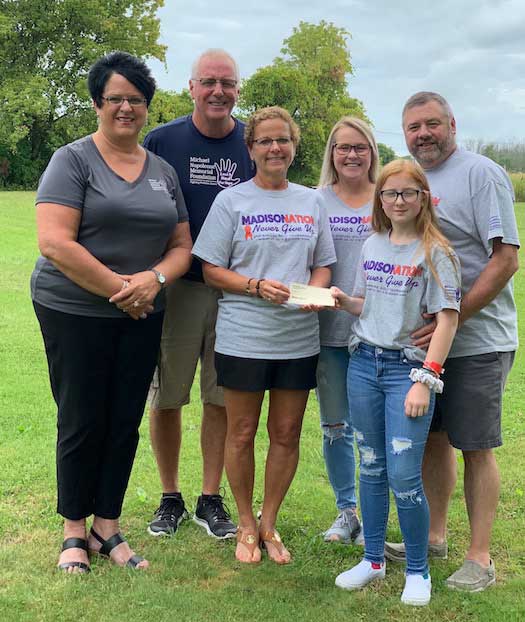 Provided photo
The leaders of the Madisonation golf tournament on Sunday presented a check for $9,115 to the Michael Napoleone Memorial Foundation.
Madison Muckle and her father Kevin presented the check to the foundation. Kevin Muckle has organized a golf tournament in honor of his daughter the past nine years, including one on Aug. 25 at Hickory Ridge Golf Resort in Holley. The proceeds of the tournament go to organizations and families fighting cancer.
Pictured from left include Ann Marie Suttell, president of the Michael Napoleone Memorial Foundation; Mark Napoleone, Sr., Co-Founder and Board Member; Laurie Napoleone, Co-Founder; Jennifer Moore; Madison Muckle; and Kevin Muckle.
The Michael Napoleone Memorial Foundation was established in 2007 in memory of Michael C. Napoleone, the 8 year-old son of Mark and Laurie Napoleone from Batavia. Michael died from Burkitt's Lymphoma/Leukemia, an aggressive form of blood cancer. During Michael's illness, the community rallied around the family to assist with food, gas, medical bills and other necessities.
The not-for-profit foundation was created to give back to those who cared, to give forward to those in need, and to support research efforts in finding a cure for childhood cancer.
The foundation has assisted nearly 400 families, and given over $400,000 in support. For more information on the Michael Napoleone Memorial Foundation, click here.
Muckle has been organizing the tournament for nearly a decade. He said he is grateful for the people who helped his daughter get through 2 ½ years of cancer treatments. She has been cancer-free for more than 6 years.
Madison, 11, starts sixth grade on Wednesday at Albion.