Madisonation golf tournament raises $7K for Lockport girl battling cancer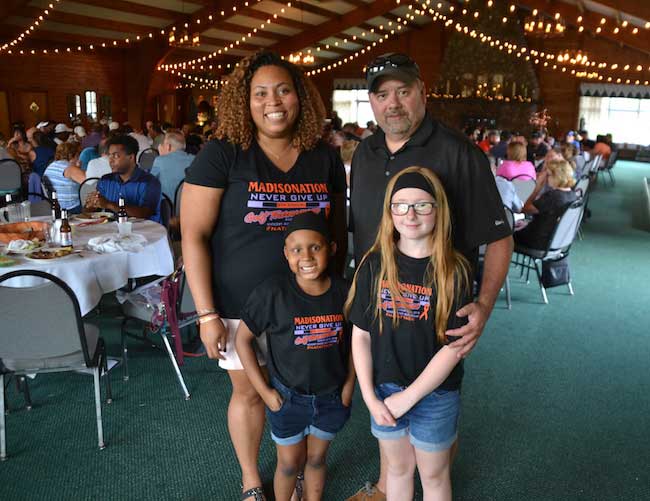 Photos by Tom Rivers
MURRAY – Th eighth annual Madisonation golf tournament was Sunday at Hickory Ridge Country Club. The tournament started in honor of Madison Muckle of Albion. She is pictured at right with her father Kevin Muckle, who organizes the annual event.
Proceeds from the tournament this year are being directed to Natalie Morley, 6, (left) and her mother Ariel Riddick of Lockport. Natalie is fighting cancer for the second time. She just endured a year of radiation and will be checked in October to see if the cancer is gone.
Natalie starts first grade today in Kenmore. She has been fighting stage 3of Embryonal Rhabdomyosarcoma Cancer, a soft tissue tumor. Her mother is optimistic the cancer is gone.
Muckle has been organizing the tournament for several years. He said he is grateful for the people who helped his daughter get through 2 ½ years of cancer treatments. On April 10 she reached the five-year mark of being cancer free.
Muckle of Batavia said he is very thankful for his daughter and her success in overcoming cancer. Madison, 10, starts fifth grade next week at Albion.
Mr. Muckle works as a traveling sales rep for a medical equipment company. He works on the golf tournament each year for about four months, lining up sponsors, raffle donations and golfers.
There were about 100 golfers on Sunday and the banquet was attended by about 160 people.
In the past the tournament has benefitted Camp Good Days, the Ronald McDonald House, the Make-A-Wish Foundation or other local families with a child fighting cancer.
Muckle met with Natalie and her mother and decided the funds this year should help Natalie's family.
"She is a great kid," he said.
Muckle was connected to Natalie's family through a social worker at Roswell Park Cancer Center in Buffalo.
The tournament raised $7,000. That will help with out-of-pocket medical costs, gas, parking, food and other expenses.
Muckle thanked the many supporters for the tournament.
"Looking out and seeing all of these people is an emotional thing," he said. "We do this because we want to give back."