Mad Scientists advance in Lego qualifier at Churchville-Chili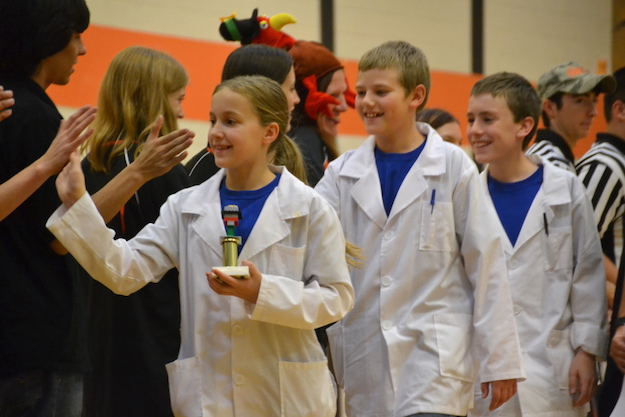 Photos by Tom Rivers
CHURCHVILLE – Members of the Mad Scientists, a First Lego League team from Orleans County, is congratulated after being named one of five teams to advance to a regional competition on Dec. 11 at the University of Rochester.
This photo shows Emma Foote, Bryce Wilson and Zachary Neal getting high-fives from officials and leaders of today's qualifier at Churchville-Chili Middle School. There were 18 teams with the top five advancing to regionals.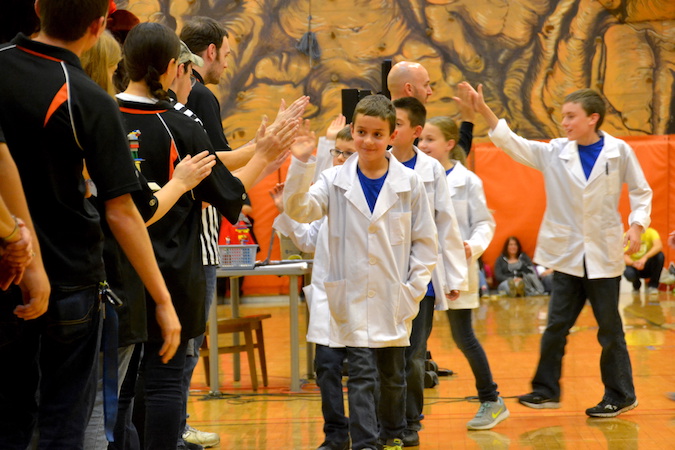 The Mad Scientists also won the award for best project. The Mad Scientists developed a prosthetic leg for a dog.
This photo shows Joshua Bovenzi and the team accepting that award. The FLL teams throughout the country had to do a project on "Animal Allies." They needed to research animals, present that information during today's competition, and build and program a robot to perform different tasks.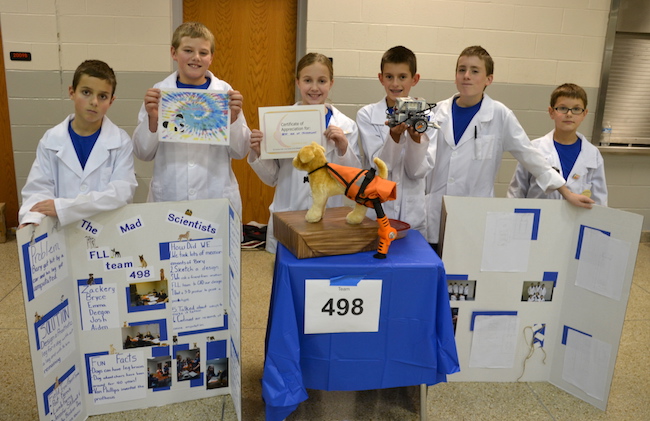 The Mad Scientists include, from left: Joshua Bovenzi, Bryce Wilson, Emma Foote, Deegan Bragg, Zachary Neal and Aiden Miller.
Orleans County has three FLL teams who compete in the 4-H program. The Orleans teams are led by Marlene and Erik Seielstad of Albion. They have led the program, open to students in grades 4 through 8, since it started five years ago.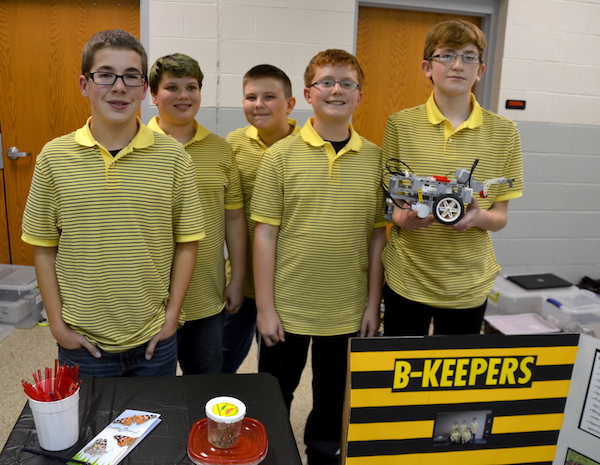 This team was named the "B-Keepers." They researched bees and their importance in pollinating crops and vegetation and offered solutions to fight Colony Collapse Disorder, which has hurt the bee population. The team include, from left: Jacob Foote, Nicolas Burke, Bryce Mathes, James Michael Beach and Isaac Becker.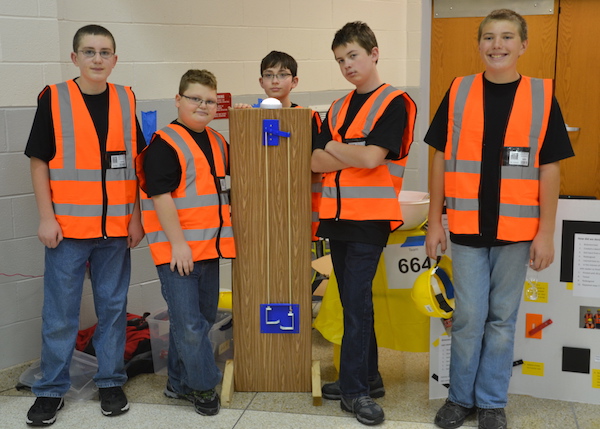 This team from Orleans – KOWZ (Kids Only Work Zone) – created a contraption for a dog to turn on the lights in the dark. Dogs can't reach a light switch, but with this invention they could pull on the bottom lever and turn on the lights. Parents of a child in a wheelchair at the competition today liked the invention so much, they took it home with them to use in their house for their son. The KOWZ team includes Jayden Neal, Russell Kingdollar, Jacob Draper, Lance Moyer and Samuel Yousey.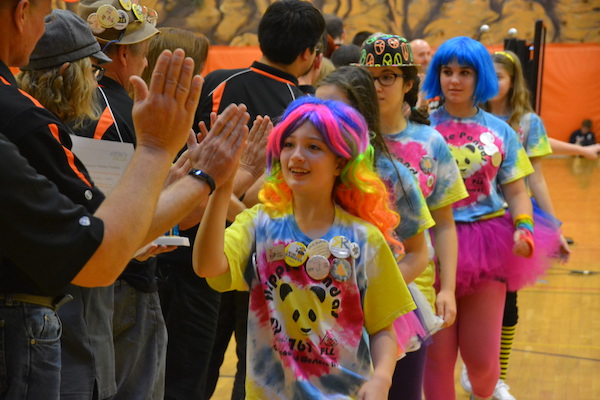 The Hippie Pandas, a team from a Girl Scout troop in Churchville, once again was named the overall champion in the qualifier. The Hippie Pandas are a dominant team and advanced to the national competition in 2014.